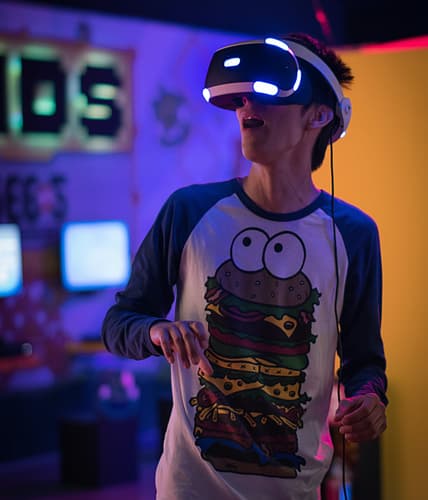 What if you could have an unlimited sales team without actually having to hire new employees? With Shoprocket, you can. Shoprocket's simple and secure eCommerce Platform enables you to start making sales anywhere, including:
Special events or physical locations
Instead of forcing your potential customer to purchase solely from your website, Shoprocket enables the customer to purchase a product without having to leave the site they are currently visiting. Within minutes, a blogger can start selling your product on his or her web page, allowing readers to make purchases directly on the blog.
Using Shoprocket, you can create a simple modal, helping reduce the chances of purchase abandonment. The customer purchases directly on the current page instead of being directed through the funnel to your separate website. With the click of a button, you can start selling anywhere.
In this article, we provide tips and examples that we hope will ignite sales to help grow your business.
1. Transform your Non-eCommerce Enabled Web Page or Blog into a Selling Platform
Shoprocket allows you to turn your website into an eCommerce page, regardless of your technical knowledge.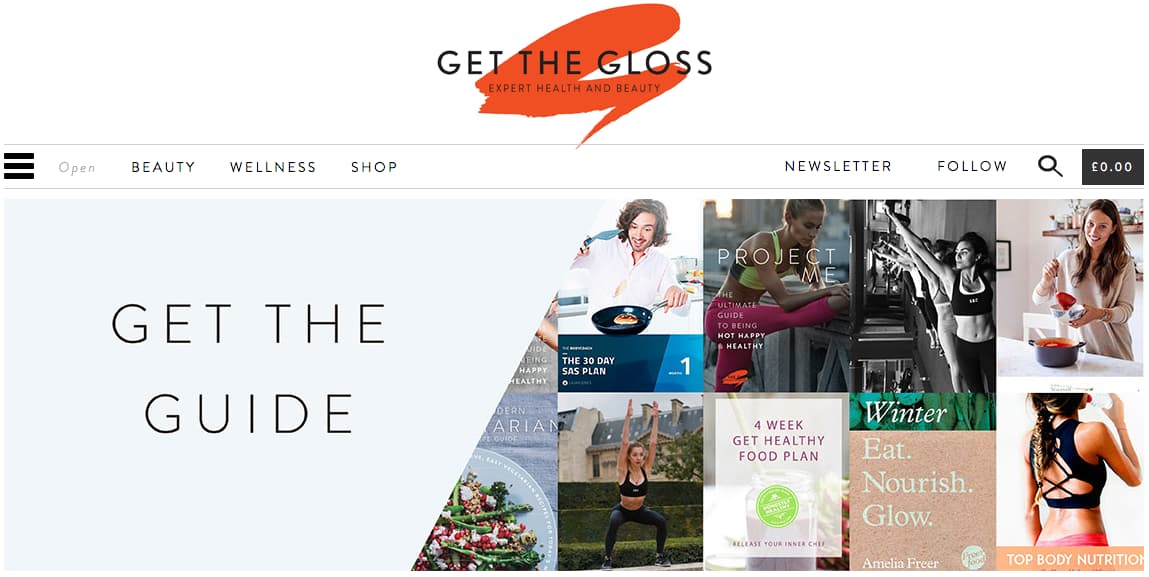 Take Get The Gloss, for example. Initially, the health and beauty website only offered lifestyle advice. After partnering with Shoprocket, however, they began selling their advice in the form of a health and beauty guide. Within minutes, Get The Gloss was able to add Shoprocket to its website, allowing it to provide added value to their readers whilst also generating revenues.
2. Collect Pre-Orders
Often a clever way to gauge product demand and forecast sales is to offer customers the opportunity to pre-order an item. Through Shoprocket, you can easily customise the eCommerce Platform to accept pre-orders on both your own website and external ones.
Sassoon Academy, the training arm of the legendary hairdresser Vidal Sassoon, just partnered with Shoprocket. Through this partnership, Sassoon's customers can now view available courses online and then secure a spot via an online payment or essentially pre-order an Academy course.
Sassoon doesn't have to stop here! Using Shoprocket, the company can also advertise on other hairstyle websites and prospects can pay directly on these web pages as well.
Additionally, the Sassoon Academy has the option of incorporating the Shoprocket Platform on guest articles, podcast pages, and reviews. By using Shoprocket in these different locations, the hair academy reduces the likelihood of losing a customer due to distractions while he or she funnels to the company's website. The threat of a text message, facebook notification, or ping on Slack is always looming! So, why not allow the customer to make a purchase on the site they're already visiting?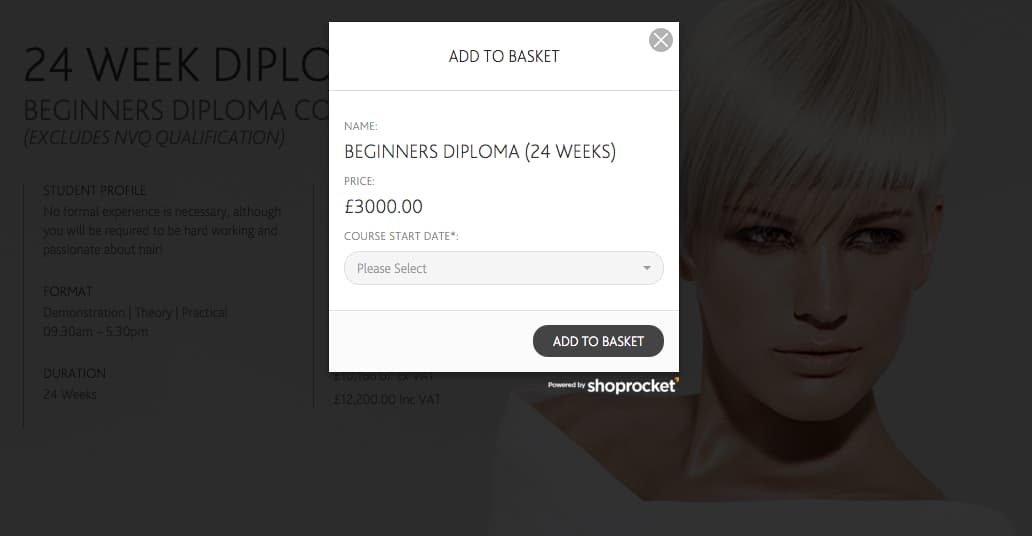 3. Enhance Your Brand Storytelling
Storytelling is a great way to grab hold of a customer, but without an eCommerce Platform, there is no way to monetise the narrative. Shoprocket can make these stories profitable.
Shoprocket is a quick and easy way to ask for a sale at an appropriate time without being intrusive or interrupting the reader with ads or sales pitches. In other words, instead of immediately asking prospects to purchase the product, you engage the reader with content or storytelling and then prompt the customer with Shoprocket's Platform at the opportune moment. Of course, this suitable time must be supported by analytics.
Using brand storytelling allows for subliminal promotion of your product, creating a more satisfying experience for the prospect, and consequently a greater likelihood of a purchase.
Furthermore, Shoprocket allows you to add its platform on your own blog where storytelling is present, as well as other storytellers' websites or blogs where their audiences are relevant.
4. Revive Brands
Shoprocket also has the potential to help revitalise entire industries and produce new streams of revenue for editorial brands. Moreover, brands relying on broken advertising models can use Shoprocket to break into the eCommerce industry, diversifying their revenue streams.
Newspapers and magazines in particular might use Shoprocket to boost subscriptions, both physical copies and digital downloads. With Shoprocket, customers can also read an article and then be given the option to purchase the entire issue. For a publisher managing a variety of magazines, Shoprocket's seamless integration also allows you to add its eCommerce Platform to all your existing sites. You aren't forced to move to a new platform. With Shoprocket, publishers also have the option to sell products on behalf of other brands, directly in the article content. An excellent opportunity for both parties to increase revenue.
5. Take Advantage of Digital & Real-Life Events
Whether you are speaking at a meetup, attending a trade show, or kicking off a product launch, Shoprocket allows you to capitalise on the hype of the event. With Shoprocket's seamless technology integration, they make it easy to sell at these physical locations. At these events you can:
Pass tablets out to the audience and have them make purchases in their seats.
You can also display a link to a landing page with the Shoprocket Platform in your presentation slides during a key moment of your conference presentation. The audience can then immediately make a purchase on their phone. Our checkout is of course fully responsive and mobile friendly.
Furthermore, if they're interested in your presentation, and better yet, they're enjoying it, this is the optimal time to make a sale. Shoprocket's platform allows you to simultaneously present your product and sell. At these events, you're essentially trending, so take advantage of it!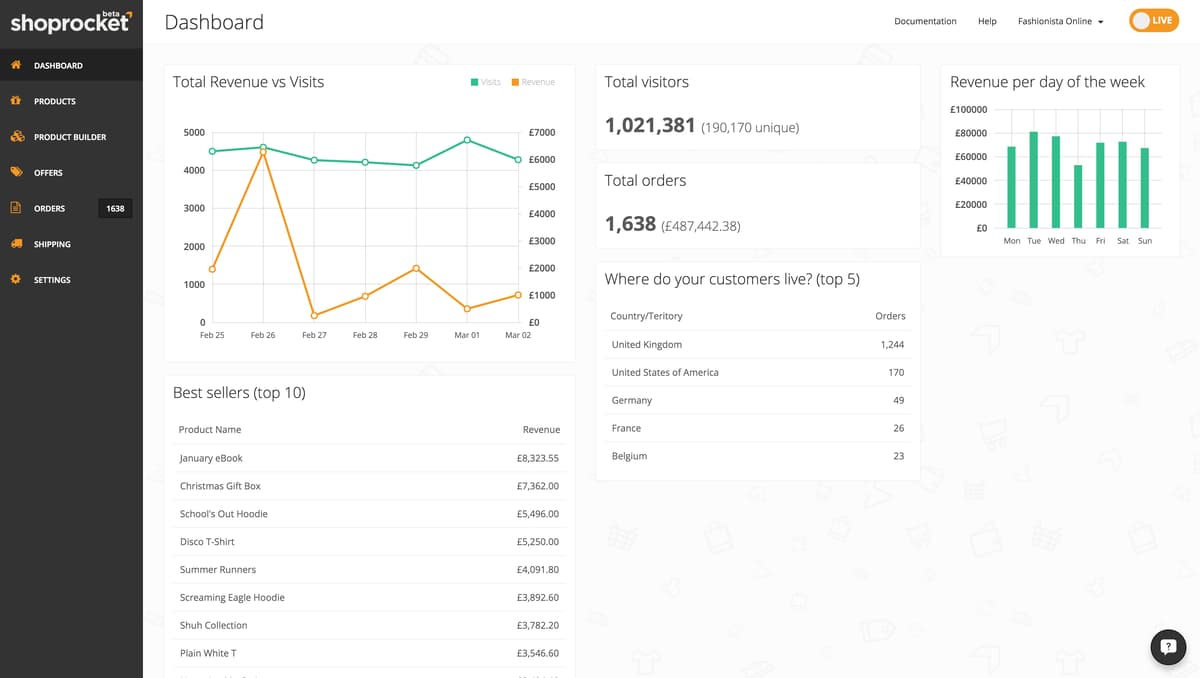 6. Collect Donations in an Innovative Way
Shoprocket's buying button can help simplify the giving process of nonprofits and charities. It's difficult enough compelling individuals to donate; therefore, it's essential that you make the donation process as simple as possible.
With Shoprocket, you can promote the message of your organisation on appropriate websites, and if it resonates with the reader, he or she can make a donation on that trusted site. Relating back to real-life events, if you are attending a fundraising dinner or a conference to spread awareness about your organization, Shoprocket allows you to easily display its eCommerce Platform on a tablet display. If people feel compelled to donate, they can conveniently give to your charity quickly, easily and securely.
7. Help Validate New Design Ideas
If you're considering redesigning your eCommerce website, but hesitant, consider utilising a tool like Unbounce and Shoprocket's platform to help determine a decision.
unbounce">Unbounce doesn't require any coding, you simply drag and drop new product pages and embed Shoprocket. After the site goes live, simply track conversions using a software like Google Analytics, as well as analytics provided by Unbounce, and, of course, monitor sales and conversion rates with Shoprocket too. If the challenger page outperforms your existing one, it is apparent a new redesign is worth the time and money. Implementing Shoprocket on Unbounce is quick and easy, so why not try it? Learn how, here.
Using Shoprocket, you could utilize Unbounce to mock-up new versions of landing or category pages, and test entire eCommerce experiences without ever having to edit a theme or line of code.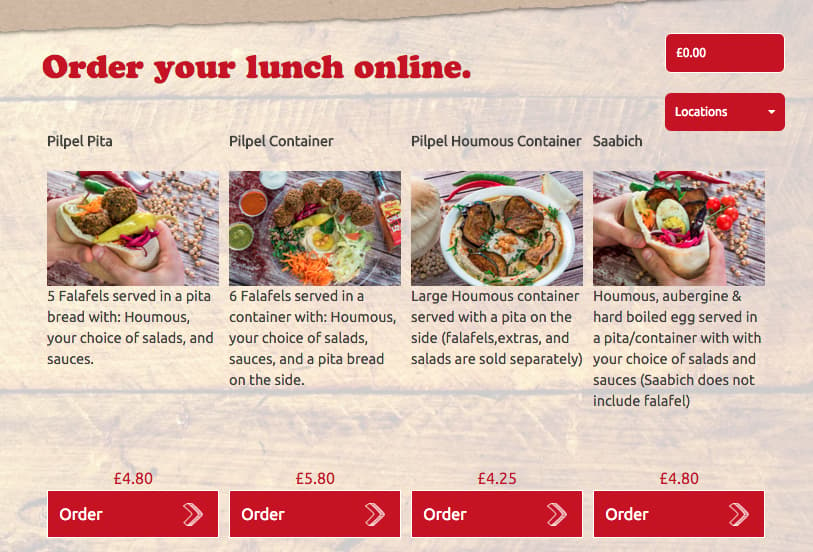 8. Reduce the Anxiety of Replatforming
Replatforming is a massive, taxing decision for any eCommerce company. You're redesigning your entire websites, which requires time, resources, and money. The Shoprocket Platform, however, can help reduce your anxiety that accompanies making the decision.
If you're considering moving to Shoprocket you can curate best-selling items or hold attention-grabbing flash sales to help ease the transition.
Remember, Shoprocket works beautifully with any website or blog. While replatforming, maximise profits by integrating it into your existing website.
Try creating a new landing page and then use Shoprocket to sell while you're transitioning to the new platform.
9. Make Modals More Useful by Combining Shoprocket with Lightboxes
With Shoprocket, you can reinvent the customer's interstitial experience on your website. This may also help you convert prospects who demonstrated previous interest or are familiar with your product.
We suggest you combine the lightboxes you're using to gather emails with Shoprocket to help boost sales. Discretion is advised. You don't want to irritate your customers, so make sure to be smart about your implementation.
Timing is everything. Make sure that you arrange Shoprocket and your lightbox to appear only after the viewer has had the chance to absorb the content on your page. Be sure to utilise your analytics software to determine the appropriate time to prompt your lightbox.
Consider implementing the lightbox and Shoprocket during campaigns focused on retargeting consumers. Using PPC ads, drive former site visitors who exhibited interest in your product, but abandoned the purchase.
10. Turn Touch Screens into Interactive Sales Hubs
Mobile web use continues to dominate consumer behavior. As an innovator, you must adapt your business in order to remain a strong competitor in your industry. Shoprocket allows you to target this mobile use.
Fortunately, Shoprocket is a fully responsive eCommerce system, making selling on mobiles a breeze. With a current basket abandonment rate of 35%, compared to the industry rate of roughly 70%, Shoprocket can help you effectively target customers on their mobile devices and tablets. Wherever your customer is in the world, you can make a sale.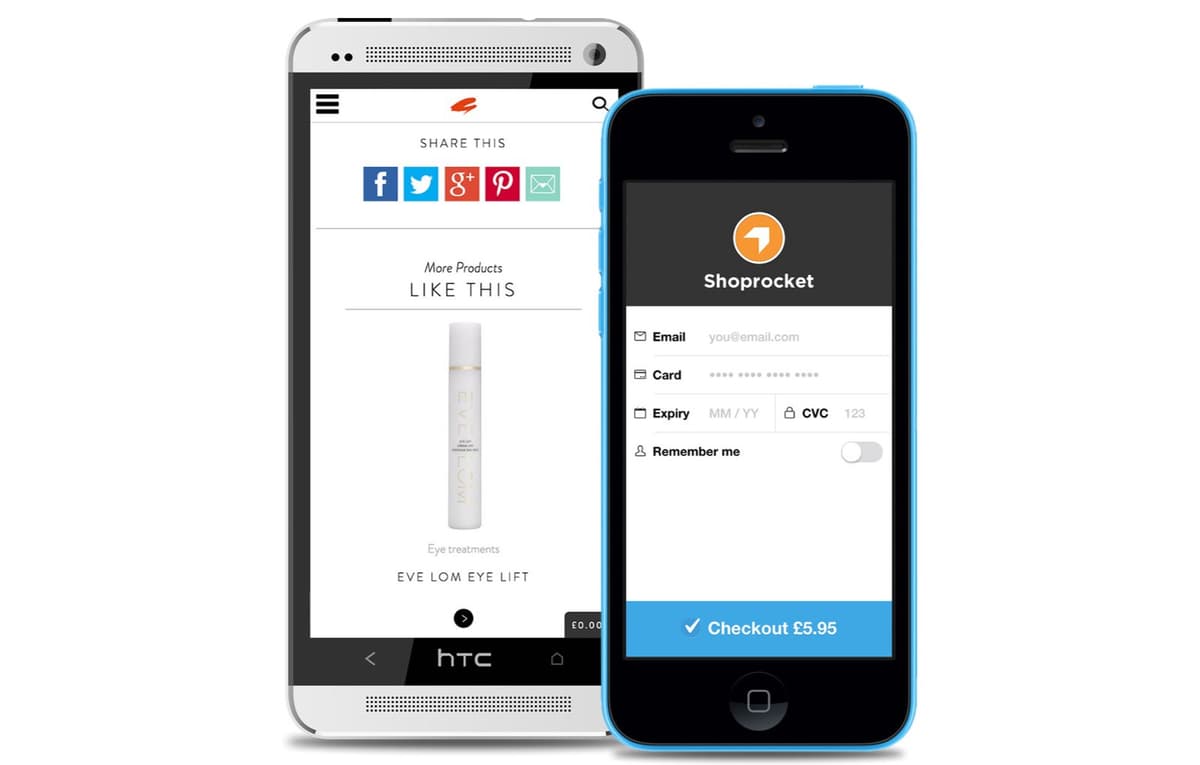 11. (Bonus!) Virtual / Augmented Reality
One of the wonders of Shoprocket being built on our own extensive API, is that we can quickly adapt to new trends, technologies and platforms. We see big things for the future of virtual/augmented reality - and expect to see Shoprocket powering commerce in new and exciting ways.
So What's the Big Idea?
Shoprocket gives you the ability to sell anywhere. Buyable products can be added to any website instantly. With Shoprocket, you can effortlessly boost your sales by as much as 300%, simply by switching to our optimised checkout flow.
Sell directly on your homepage, at the end of an article, in your blog post, or even in your sidebar. You are no longer limited. With the ability to transform almost any website or physical environment into a profitable opportunity, your business can only grow.