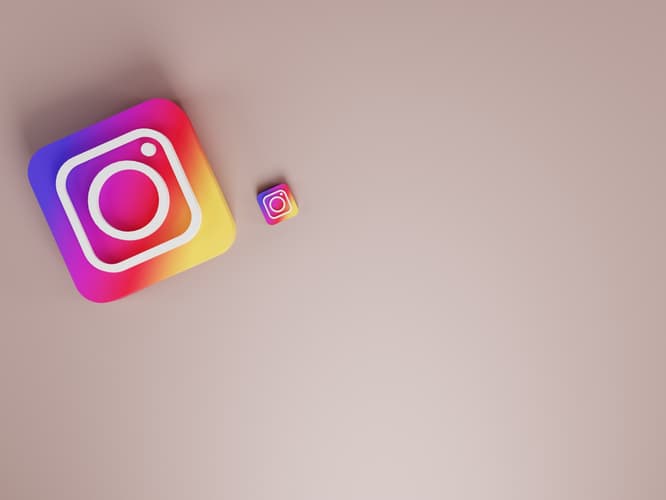 instagram">Instagram. The lesser utilised social media platform (marketers leverage Instagram content blog/infographic-instagram-and-email-marketing/" rel="noopener ugc nofollow" target="_blank">less than 3% of the time).
But why? Instagram hosts 70 million images shared daily. According to Brandwatch, these images get 10 times more engagement per follower than Facebook, and 84 times more than Twitter.
Instagram should be considered just as powerful a marketing tool as the typical social media platforms.
In light of this, we've created a list of the top 19 tips to use your Instagram account most effectively, with examples from successful brands.
Overall account/profile
Set objects for your Instagram account.
What do you want to do with your photos? Where are you going to focus your content? What do you want to get out of it?
Possible objectives include:
To increase brand awareness
To demonstrate company culture
To showcase your team and recruit new talent
To increase customer engagement
To enhance event experiences
To share company news, highlight features, showcase products/services
2. Avoid overselling at all costs.
We all have an inherent distrust for the salesman. Successful Instagram accounts are not trying to shove their products in your face. That is a guaranteed way to lose all of your followers.
Instead promote your products creatively. Consider Nike. Nike finds a way to advertise their products through posts that highlight the lifestyle of their brand.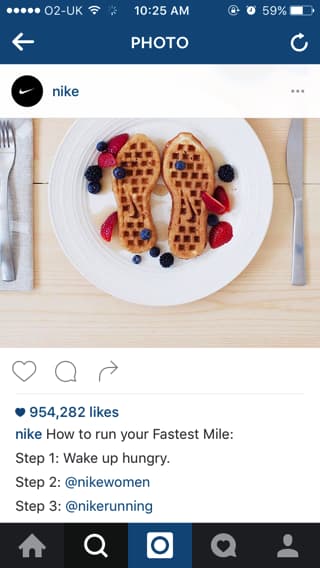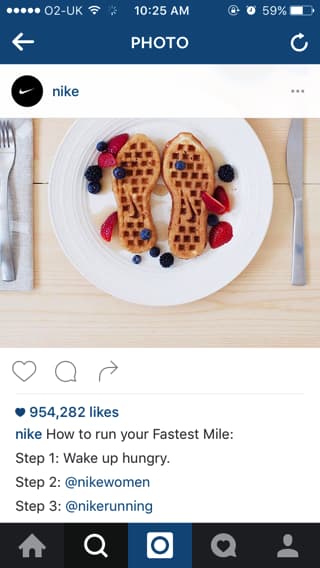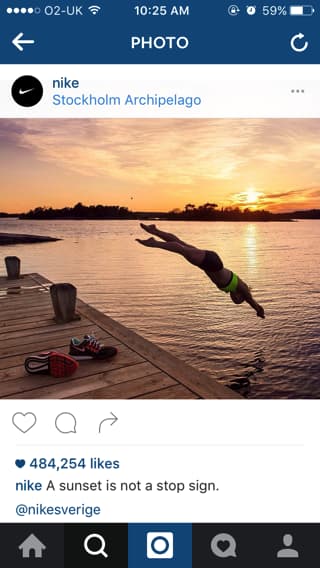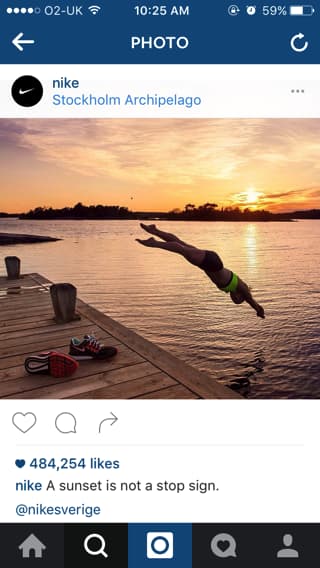 3. Create a brand hashtag.
Come up with a hashtag to use on most of your photos. This hashtag will group your photos together and allow for users to easily find all photos related to it. Continuing with the example of Nike, their #justdoit slogan makes for a great hashtag, which many followers want to interact with, highlighting Nike's product and the healthy lifestyle the brand stands for.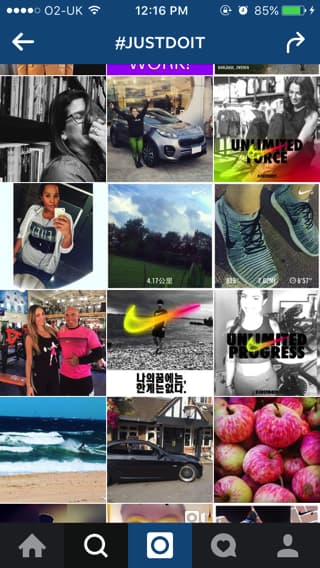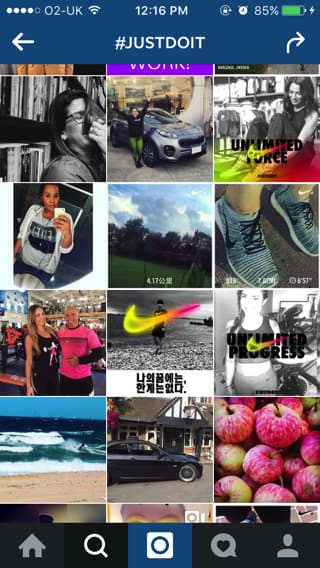 4. Cross-promote.
Link your Twitter, Facebook, LinkedIn, etc to your Instagram to reach a larger number of people and intrigue them to see more of your photos.
5. Be consistent in the type of content you publish.
Just as you should be consistent in using your brand hashtags, follow the same practice with your visuals. The best brands or the most popular individuals on Instagram have a specific vibe or look to their homepage. When all of your photos are side-by-side on page, you should be able to see a pattern.
Compare the accounts of Everlane and REI: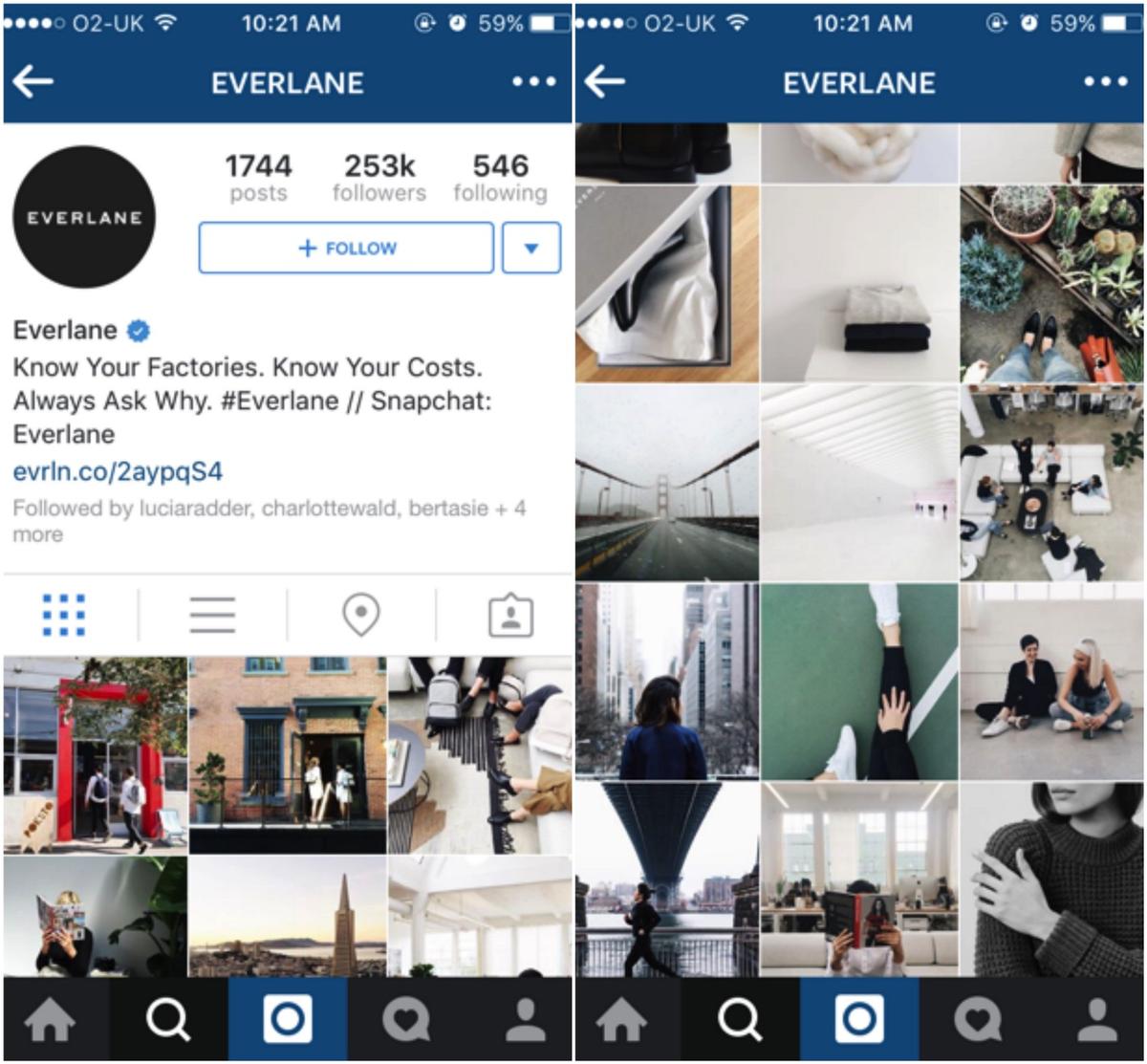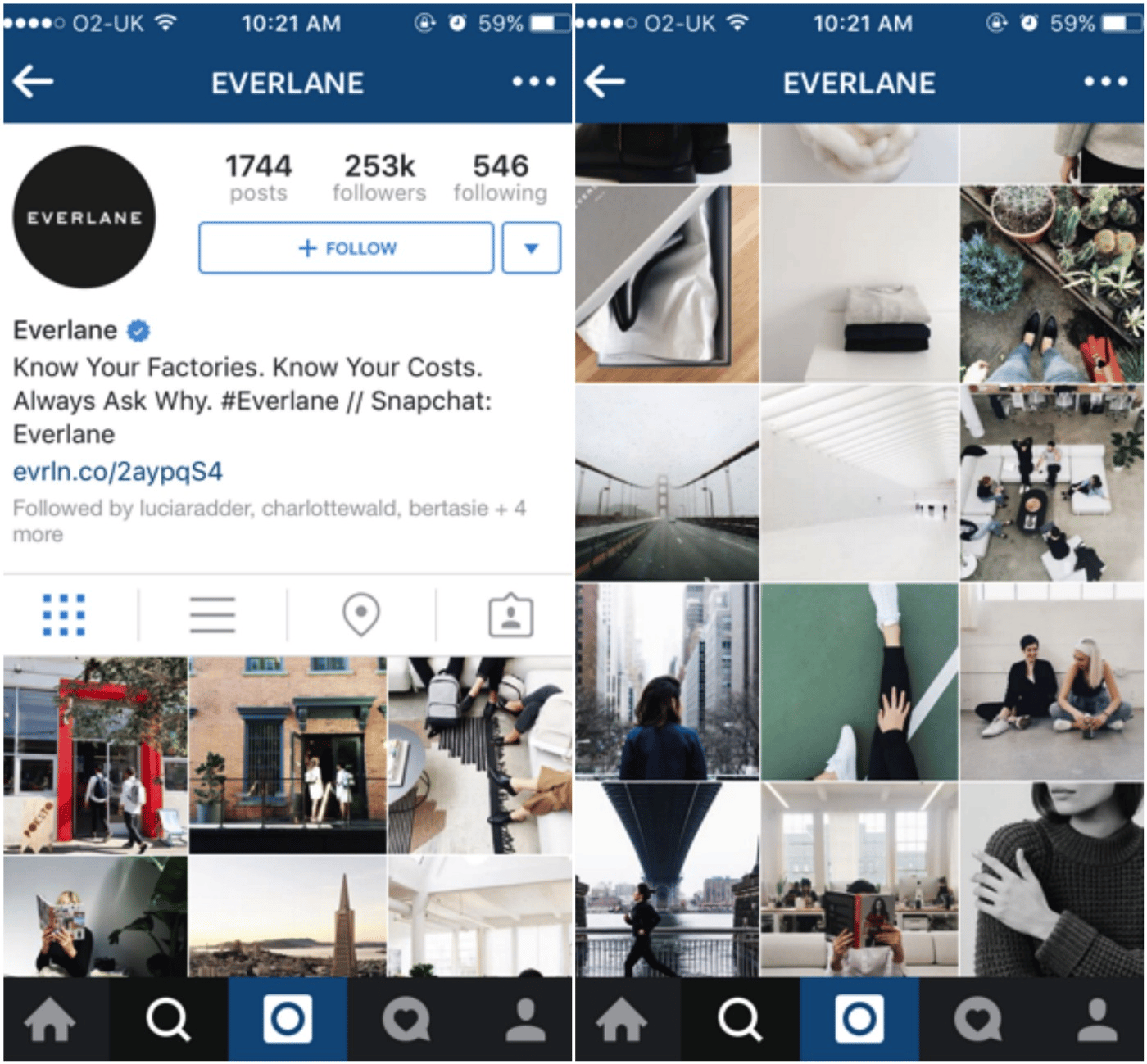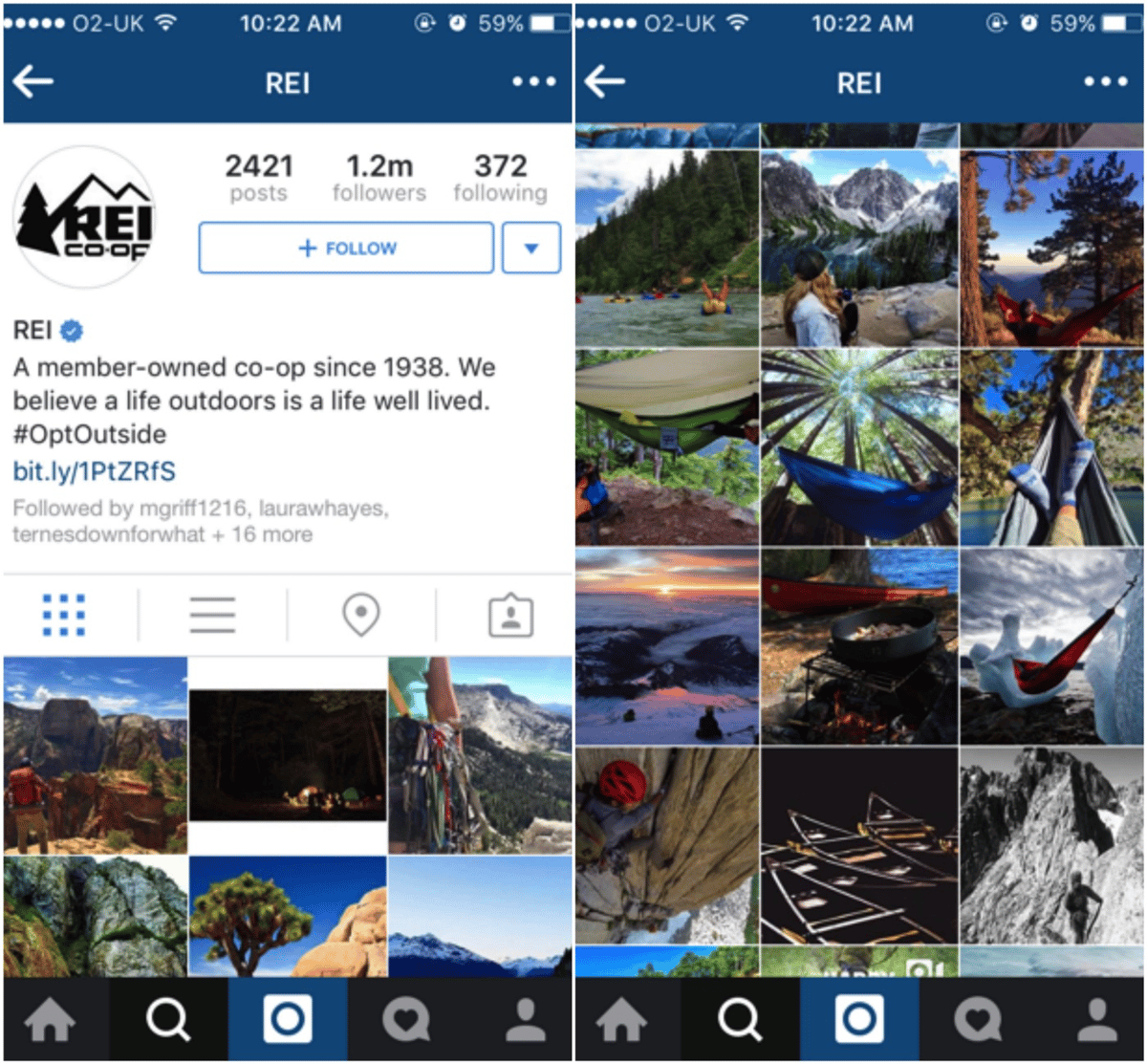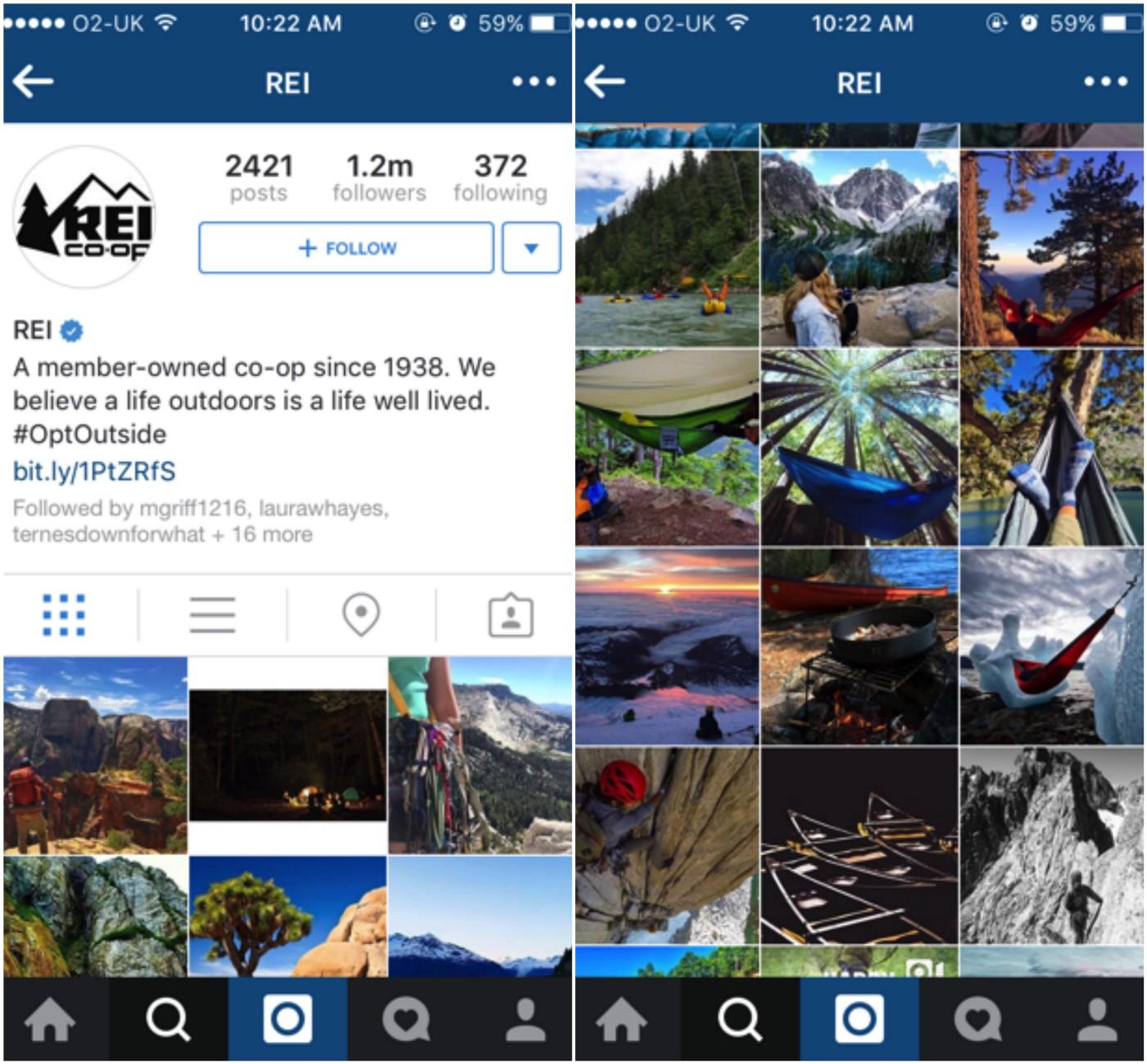 Both accounts embody their brands and products but Everlane uses neutral colors and simple pictures while REI's images are very colorful and detailed. You can see the consistency by viewing their images as a collection.
6. Help your followers get back to your site.
Obviously the goal of having a stellar Instagram presence is to drive sales of your online store. You'll want to track how successful your account is converting to shoppers, by placing links within your account and posts. Place a bit.ly link in bio so you can track how many clicks your Instagram is sending to your website. Further, the links in image captions should be related to specific products illustrated in the images.
7. Schedule, schedule, schedule.
Post when people are most engaged. According to SumAll, this is Monday at 6:00pm. However, there are a range of tools that can schedule your posts and track most popular interaction times for you. At Shoprocket, we use Buffer. We will input a bunch of posts in our queue and Buffer with post them according to a set schedule. This is something you can do at the beginning of the week so it doesn't have to remain top of mind.
The photos themselves.
8. Optimise your photos for the size and layout of Instagram.
In order to produce the most professional photos, consider the size of the Instagram square. It's a frame of 612 x 612 pixels and usually involves cropping or resizing your photo for maximum aesthetic. If using your iPhone, try taking photos in square to boost the compatibility between the image and Instagram.
9. Use the provided filters to your advantage.
On average, Mayfair filter gets more interactions per 1,000 followers. Instagram filters are a great tool for creating that overall vibe you want for your account. You can brighten your photos, or shade them in cool colors. You can make colors pop, or edit colors into black and white.
Experiment with combinations of edits and filters when you create your account to see what look is most aesthetically pleasing, while also matching the feel of your company.
10. Mix in some videos
Videos are a great idea for a tutorial or demo of your product. In fact:
64% of website visitors are more likely to buy a product on an online retail site after watching a video.
90% of online shoppers at a major retailer's website said they find video helpful in making shopping and buying decisions. Source.
Since you don't want to oversell, try adding some value outside teaching them to use your product. Make you video funny, or include a customer using the product. Adding entertainment value will hide the fact that you are indeed selling your product.
11. Geo-tag, geo-tag, geo-tag!
Only 5 percent of Instagram posts tag a location, but statistically, posts with a geotag get 79% percent more engagement!
Sprinkles Cupcakes does very well with their cupcake ATM; both their posts and their followers' posts use the ATM geo-tag. Just by clicking on the geo-tag you can see all posts from that location.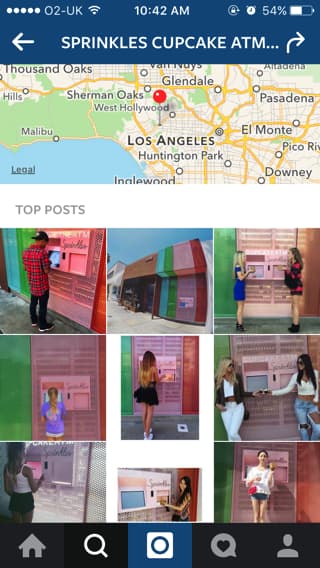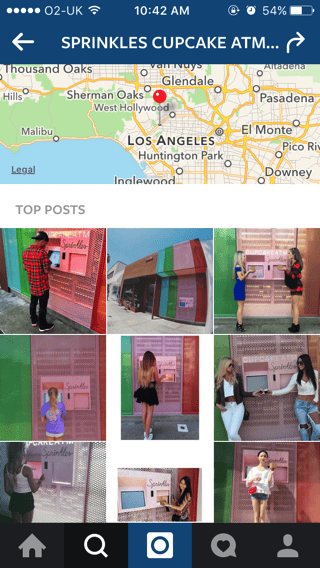 12. Captions are key.
The goal: make your follower re-examine your photo after reading your caption. If your caption makes your follow do a double take or look at your picture in a new light, you've mastered caption writing.
An Instagram post can have a caption of up to 2,200 characters but it will display only the first 3 lines followed by an ellipses signaling there's more to caption to click on.
13. Use those hashtags, people!
It important to know what is trending and get in on it. 88% of posts include a hashtag. Since hashtags group images together, users interested in a topic are able to explore all related posts and your image has a higher chance of being discovered by someone new. According to Curalate, the top tags for highest revenue drivers per impression are: Eyes, Smile, Sun, Makeup, Female, Water, Hair, Travel.
14. Put CTAs in your captions.
It's easy enough to scroll through an Instagram feed. Get your followers to be more active online! When including a CTA in your bio or in a caption, create a landing page targeted to your Instagram followers. Include visuals, either new or from your existing account. Ensure that these follow the same patterns that have been previously mentioned. Make the transfer to your landing page seamless- they should feel as if they are still on your Instagram account just on a different page.
15. Shareable content
Posting a high-quality image with a tip or quote makes for a very easily shareable photo. Posting a random or funny picture and asking followers to "tag a friend that photo applies to" will also boost shares.
Engage with community
16. Let your community market for you.
Encourage users, fans, customers, etc to create their own videos/pictures about your product or industry for an incentive. For example, hold a contest for the best video/picture and offer a reward to the winner. Re-post all excellent entries and interact with every single entry. You can collect posts from the contest on your website to show real-life customers enjoying your product.
Dunkin Donuts did this over Halloween, giving their followers a chance to win a $100 gift card for the best-dressed Dunkin cups.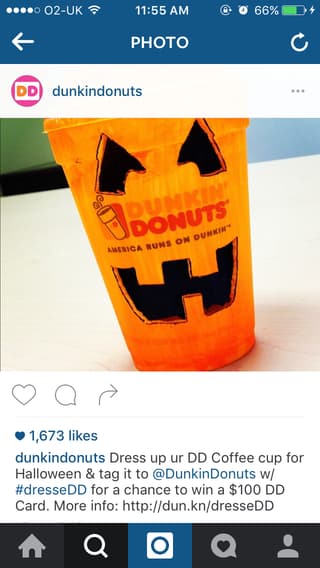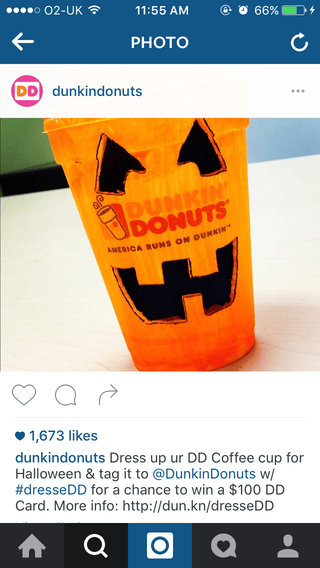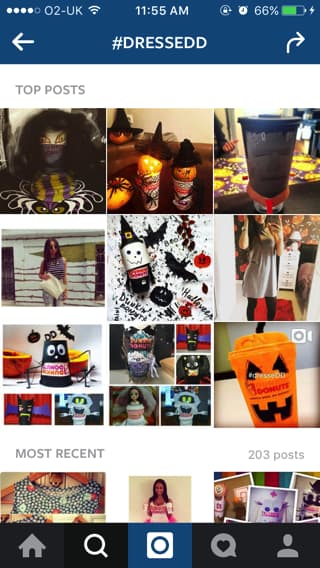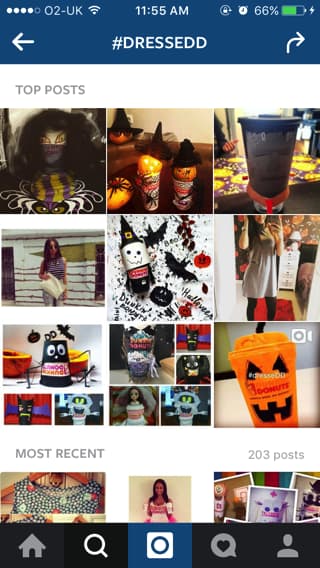 17. Share/repost your customers photos in general.
4 out of 5 of users give brands permission to share their images and 65% of Instagrammers say they feel honored when a brand mentions them.
Red Bull does a great job at this. Almost all of their photos are from extreme sport professionals, fans, adventurers, etc. They give credit to those participating in the wild photos and those who took the photo.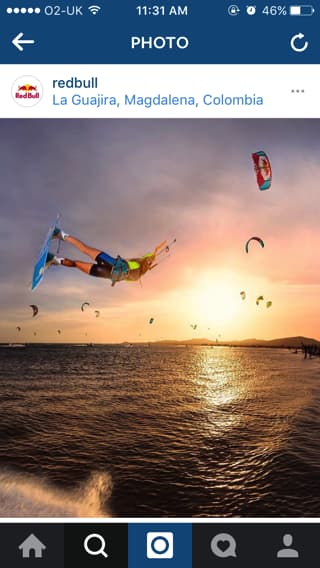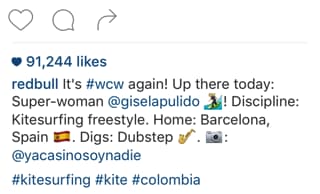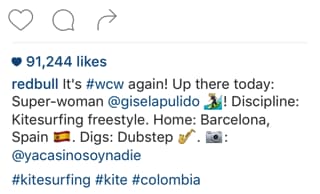 18. Use Instagram influencers or company ambassadors.
Instagram influencers are people on Instagram with thousands of followers, famous for their social media presence. These people can influence potential buyers by introducing a product to them. Company ambassadors are specific people you've hired or incentivised to represent your brand and publicly use your products.
These are great options because you're using real people to market your company rather than advertisements. This marketing approach advertises your company in an authentic and subtle way. Influencers have already built trust with their followers and ambassadors hold that same trust with their family, friends, and other networks.
19. Give exclusive offers to followers.
Reward your followers for following you! Offer "just for you" promotions, no matter how small, over your Instagram to say thank you for their attention.
Well folks, there you have it. Don't underestimate the potential of Instagram as a marketing tool. Put that social media tool to work and create the best brand account out there.
Ready to test your Instagram prowess but aren't selling online yet? We can help with that. Start selling online in 5 minutes or less.