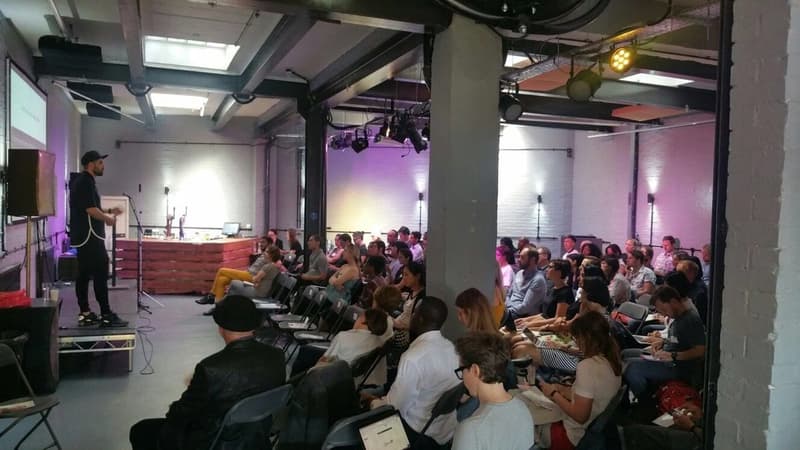 This past Friday, Secret Sauce hosted their second annual Hackney Entrepreneurship Day, at Hackney House. The conference explored a variety of areas surrounding entrepreneurship, such as legal council, branding, and business mistakes. Among the speakers were entrepreneurs David Murray-Hundley, Phil Pallen of philpallen.co and Vincent Dignan of Magnific. Speaking on pitching were Monique Maley of Articulate Persuasion and Tambo Silavwe of Insight Coaching, and speaking on development and coding were Robert Surpateanu of Zipcar and Arfah Farooq of Makers Academy. Russell Buckley of Springpartners, Fred Schmidt of Captial Factory, and Daniel van Binsbergen of Lexoo rounded out the speakers of the conference.
Max Thomas, founder of Thunderactive, spoke on the basics of search engine optimization in his talk titled "Everything You Need to Know About SEO in 20 Minutes". Thomas emphasized that because Google is running a bunch of different algorithms at a time; it's unrealistic to try and chase Google. Instead, he encourages sticking to best practices. Thomas shares some of these best practices, including a concerted focus on the aspects of your website that Google can read: the words that comprise your title and the first bit of text. Additionally, a URL that is easy to follow and contains all of the crawlable keywords from the page is crucial to increased web activity.
Furthermore, Thomas explains how utilizing the basics of Google, such as the search suggestion box, can help you compare the description of your business to what Google users actually search. If you were to search your product or website on Google, what would you type in? Make sure to include that in the description. These practices may seem obvious, but they are essential and it's glaringly obvious when not taken seriously.
Co-founder of Fanbytes, Timothy Armoo, discussed the importance of influencers in growing a business. He attests to the greater power that micro-influencers have to guide a buyer to a product, rather than that of more well-known influencers, because their smaller following means a larger impact on those followers. Armoo reinforces that we should forget about using impressions as a measurement tool; it's not about how many people you interact with, but how you interact with them. Here it is important to consider how influencers could be beneficial for your service or product; make sure you are utilizing influencers in a way that targets your audience.
Singer Victoria Hesketh of Little Boots, spoke on entrepreneurship within the music industry regarding running her own label. She is in the process of developing a new app called Loop, where users can look up music artist's favorite places to visit in various cities. Notably, Hesketh is adamant about a business model that does not include advertising within the app in order to preserve authenticity.
The conference utilized technology such as CamRate to rate speakers and collect feedback, and Slido to ask live questions online. The conference was also streamed live so interested entrepreneurs could learn remotely. Overall, Hackney Entrepreneurship Day provided both new and tested advice and tools- undoubtedly to be employed by excited audience members in any stage of their business.