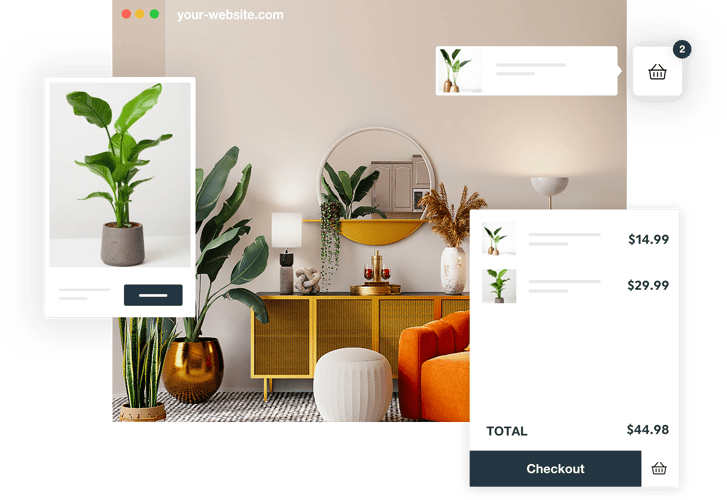 In an increasingly digital world, establishing a robust online presence is no longer optional, it's a necessity. Every business, small or large, needs an e-commerce platform to ensure growth and sustainability. However, the prospect of creating an online store and integrating popular payment gateways like Stripe or PayPal can seem daunting, often requiring technical knowledge and significant time commitment.
That's where Shoprocket comes in, offering a streamlined solution to this problem. Designed to integrate ecommerce seamlessly with your existing website, Shoprocket not only enables you to create a fully operational e-commerce store within minutes, but also makes accepting payments with Stripe, PayPal, and other popular gateways as easy as clicking a button.
Connect your account, embed the Shoprocket code into your site, and voila – you're ready to sell. Whether you're selling products, services, or digital downloads, this versatile e-commerce solution can help you transform your online business effortlessly.
What is Shoprocket?
Shoprocket is a simple yet powerful e-commerce solution that offers a straightforward way for businesses to sell products or services online. It's designed to integrate seamlessly into your existing website without the need for any programming or web development expertise. This means you can start selling directly from your website in a fraction of the time it would take to develop a traditional e-commerce platform.
How to Use Shoprocket
Setting up Shoprocket on your website is a remarkably simple process. Here's how you can get started:
1. Sign Up and Create Your Shoprocket Account
First, you need to sign up for a Shoprocket account. This involves providing basic information such as your email and creating a password.
2. Add Your Products
Once your account is set up, you can start adding the products or services you want to sell. Shoprocket allows you to create a detailed product listing with images, descriptions, and pricing. You can also categorise your products for easier navigation.
3. Copy the Product Code
After setting up your products, you can customise and generate your embed code, whether it be a simple buy button, or a complete catalogue of browsable, searchable products, Shoprocket offers it all. This is what you'll use to embed your products directly into your website.
4. Embed the Code into Your Website
The final step is to embed the Shoprocket code into your existing website. The code can be added to any page where you want to display your products. Once embedded, your products & cart will appear in your site instantly, offering for a complete ecommerce experience.
Selling with Shoprocket: The Benefits
One of the most significant benefits of Shoprocket is its simplicity. Unlike other e-commerce platforms, which often require you to completely overhaul your website or build a new one from scratch, Shoprocket works with what you've already got. This ease of integration, coupled with its user-friendly interface, makes it an ideal choice for businesses new to e-commerce or those looking for a hassle-free solution.
Another benefit is the comprehensive feature set offered by Shoprocket. Despite its simplicity, it's a powerful platform that supports a wide range of functionalities, including inventory management, worldwide shipping, multi-currency support, digital product sales, discount codes, and more.
Shoprocket is also known for its superior customer service. They understand that transitioning to e-commerce can be challenging for some businesses, and their dedicated customer support team is ready to assist you every step of the way.
Finally, one of the biggest perks of Shoprocket is its cost-effectiveness. Unlike many other platforms, Shoprocket does not charge a transaction fee, this means you get to keep 100% of your revenue (minus the standard gateway fee that your connected processor will charge, which is typically around 2%). There's no need to hire a web developer or spend money on expensive e-commerce software. With a small monthly fee, you can access all the tools you need to turn your website into a thriving e-commerce store.
Conclusion
E-commerce is no longer a luxury; it's a necessity. If you have a website and are looking to start selling your products or services online, Shoprocket offers an incredibly simple and cost-effective solution. In just a few easy steps, you can transform your existing website into a fully functional e-commerce platform, ready to engage your customers and drive your online sales.
Welcome to the future of e-commerce, where setting up an online store is as easy as copy-and-paste.
Happy selling!