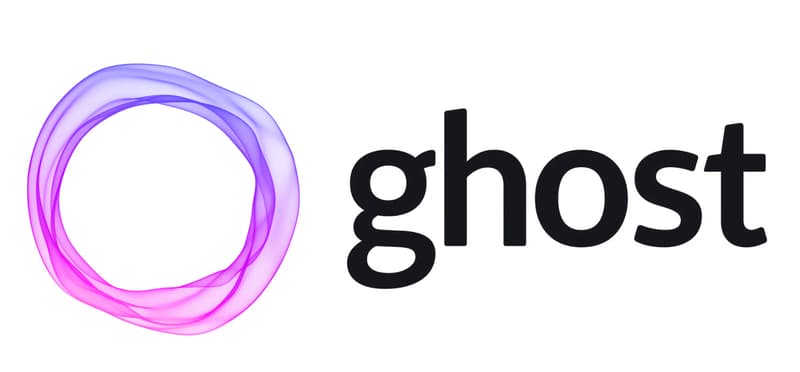 Ghost does one thing, and one thing well - blogging.
Many other blog platforms are overly complex and bloated with unnecessary code, slow page loads and clunky editors. Ghost went back to the basics with their platform and the result is truly beautiful.
What is a Ghost Platform?
Ghost is an open-source blogging platform, developed by John O'Nolan & Hannah Wolfe in 2013 at Ghost Foundation. Popular for its easy user interface and what you see is what you get (WYSIWYG) editor, Ghost is designed for bloggers who want to focus on content and media.
What sets Ghost apart from other blogging platforms is its focus on content. The platform is flexible and has been designed with the user in mind. It offers an array of features tailored to help users create and promote their content.
Also, Ghost has an intuitive editor that makes it easy to create and edit posts, with a range of formatting options and image uploads. Apart from that, the platform has built-in SEO tools to boost your content's visibility in search engine results.
You can also turn into a Ghost eCommerce blog to sell your products/services online.
Is Ghost a reliable platform for eCommerce?
Here's one correction: Ghost is not an eCommerce platform but a popular content management that many businesses use to create and manage their websites. The use of the right tools can also become a good solution that turns your blog into a selling eCommerce store.
Mostly, bloggers and small businesses use an easy-to-use yet powerful platform - Ghost, to create their online presence. It can be a great candidate to build an online store due to its scalability, SEO-friendly features, effective user interface, and optimized mobile experience.
However, even if you get these benefits, Ghost might not be a solution, especially to build a fully-functional eCommerce platform. In this case, one has to go with a CMS that offers built-in functionalities for eCommerce, when you want to build an online store from scratch.
Apart from that, one can turn their existing Ghost blog into a fully-functional online store with the help of a website builder tool like Shoprocket. All they need to do is to get a code from Shoprocket and add it to their existing blog. Once it's done, the blog turns into a Ghost carts website where visitors can buy products/services.
Undoubtedly, Ghost has some drawbacks, as discussed, but it does not mean that it is not good enough. It is a great CMS and blogging platform, but the only thing is that there are other solutions to creating an online store. Those solutions make the most complicated things involved in building an online store easier.
Further, Ghost is easier to use and set up, making it ideal for businesses that need more time or resources to learn a more complex system. As your business grows, you can easily add website features and functionality.
How Ghost eCommerce Works?
Ghost Commerce, also known as headless eCommerce, is a relatively new approach to online retailing. It allows online merchants to create new websites without worrying about the front-end user interface. Instead, they focus on developing back-end systems that power the eCommerce platform. If you want to use this method to build an online store, here are some tips to get started -
1. Understand the Benefits of Headless eCommerce
Headless eCommerce entirely focuses on developing the back-end systems that power the platforms. It means you must create a reliable yet efficient eCommerce platform without worrying about the user interface. Additionally, it can be a cost-effective solution because you don't have to invest in the front-end design.
2. Choose the Right CMS
A content management system is necessary for an eCommerce site, which allows you to manage the content on your website and keep it up-to-date. When choosing a CMS for your ghost eCommerce site, it is essential to choose one that is extremely powerful and user-friendly.
3. Utilize APIs
APIs are essential for connecting your back-end systems with the front-end interface. This allows you to create an effective user experience and ensure that your customers can easily navigate the entire site.
4. Test and Optimize
It is important to test and optimize your Ghost eCommerce site. It ensures that your website runs smoothly and the customers have a great experience. You can also make changes to the site depending on its performance to ensure that it is running smoothly as needed.
Ghost eCommerce is an effective way one can choose to build an online store without investing in a traditional front-end design. With these tips, you can create a powerful yet reliable eCommerce platform that helps you to grow your business steadily.
How to Add eCommerce to Ghost
Once you've signed up to Ghost, you can log in to your Shoprocket (https://shoprocket.io/) dashboard and head to Sales channels -> existing website.
You can customise your embeds using our UI, and specify which product or products to embed. Once you've finished configuring your embed, copy the provided code.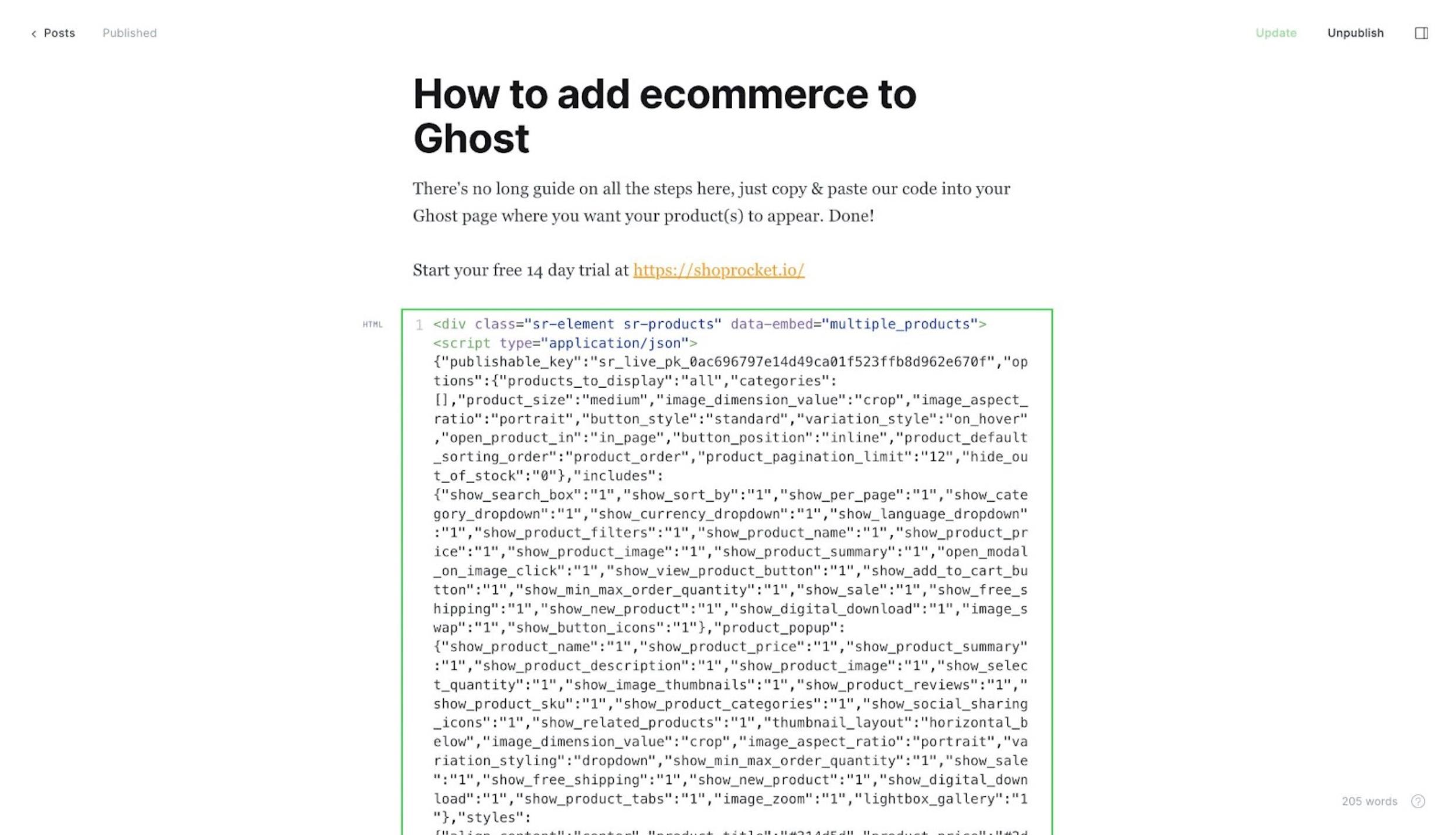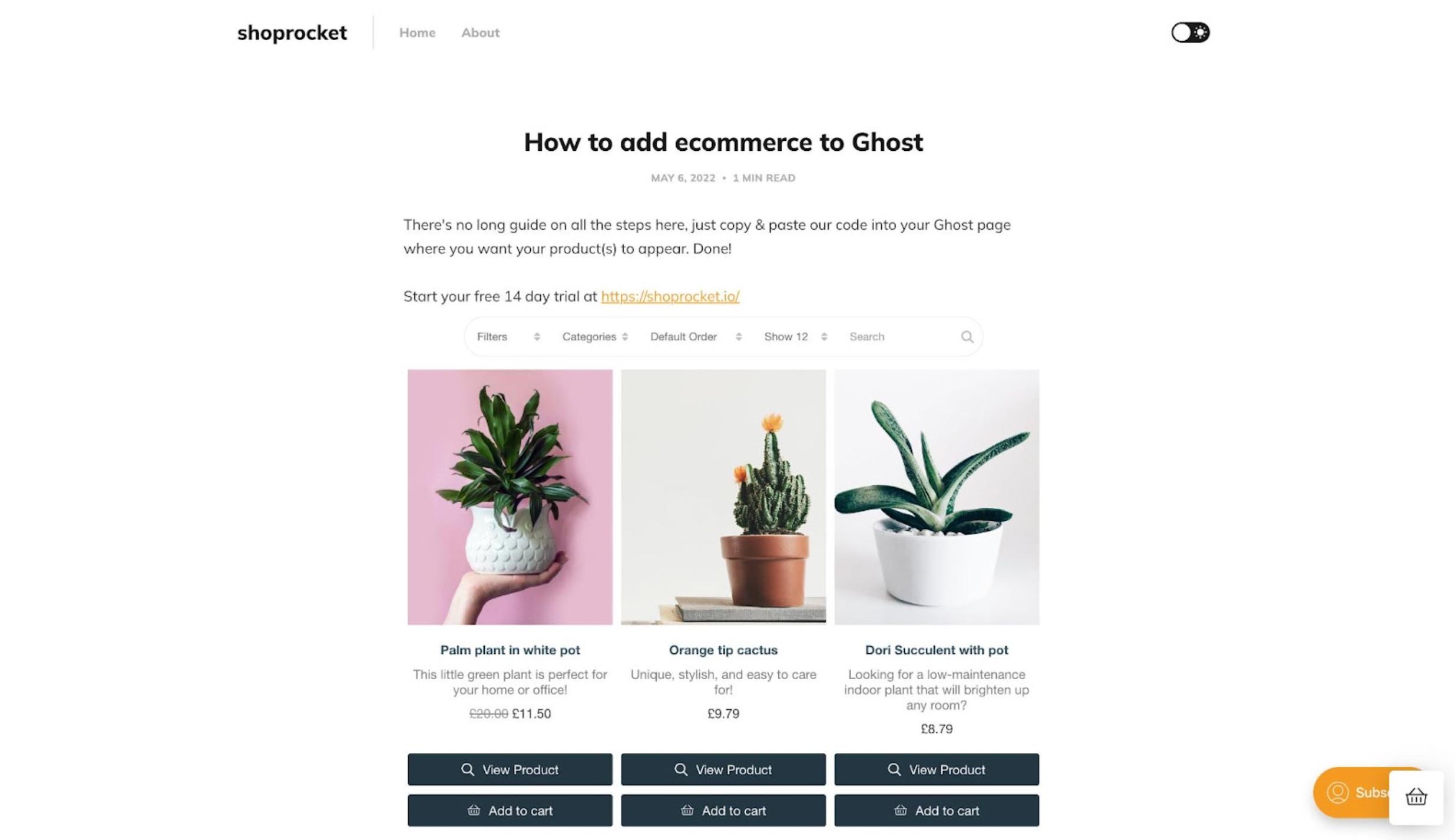 Next, head back to your Ghost editor, and from within the "edit post" view, click the "+" icon and choose "HTML - Insert a raw HTML card" Paste our code in, publish your Ghost post, and you should see your Shoprocket store, ready to go!
Benefits of Adding eCommerce to Ghost
The internet revolutionizing the retail industry allows companies to learn about their new customers, current market trends, and the opportunities available.
eCommerce is a solution that has made it entirely easier for companies to sell products to customers online, and it is especially beneficial for small businesses.
Ghost, a popular yet open-source blogging platform, provides eCommerce capabilities to its users. It allows businesses to create an online store and manage their sales in order. Here are some benefits of adding eCommerce to Ghost.
Better Reach
With the addition of eCommerce to Ghost, businesses can access a wider market while reaching wider audiences. It can help them improve their visibility, brand awareness, and sales. Additionally, businesses can target their products to a wider customer base that can contribute to successful sales.
Improved Customer Experience
It will become easier for customers to shop and make purchases from businesses. Customers will be able to browse and shop for the products on the same platform, which means the checkout process will be easier and faster. As a result, there will be more satisfied customers.
Better Engagement
eCommerce capabilities on Ghost will allow businesses to stay engaged with customers more meaningfully. They can make the best out of the platform by showcasing their products, receiving customer feedback, and providing personalized offers or discounts. These initiatives will lead to loyalty and engagement, contributing to business growth.
Enhanced Security
Adding eCommerce to Ghost will keep the businesses in peace as their data and customer information will be stored and protected securely. Ghost is an open-source platform, so there will be regular updates with the latest security measures and features. It will help businesses protect their customers' information and any data breaches that otherwise can arise.
In conclusion, adding eCommerce to Ghost provides businesses with different benefits. It will help them expand their reach while improving customer experience, reducing costs, boosting engagement, and enhancing security. With the constant evolution of the digital landscape, businesses need to take advantage of this opportunity to enhance their online presence and reach a wider audience.