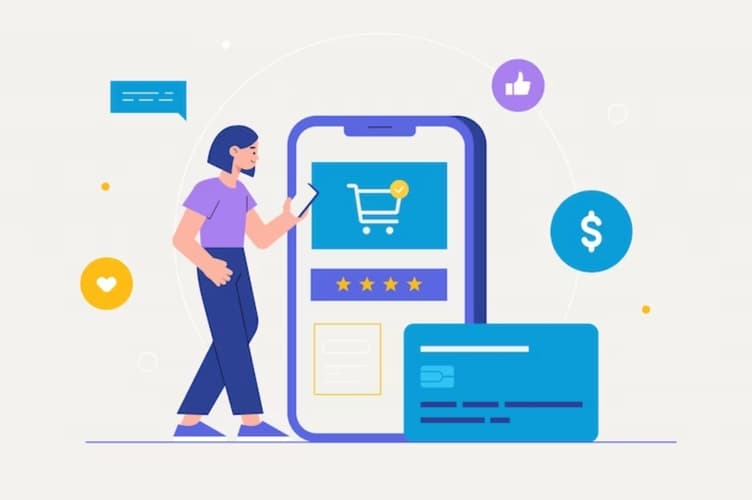 Online shopping is becoming more and more popular because it allows people to buy things from the comfort of their own homes. If you want to sell digital products online, you will require an eCommerce website.
Creating an eCommerce website is not sufficient. It has been seen that a staggering number of online shoppers abandon their carts before completing the purchase. This can significantly impact the bottom line of an eCommerce business, as abandoned carts represent lost revenue. The primary reason behind shopping cart abandonment is often the checkout process.
What is the checkout process?
The checkout process is the last step of the user journey in an eCommerce website. It includes various steps, such as entering personal information, selecting shipping options, and entering payment details. During this process, the user is required to complete several steps before the purchase is complete. So, it is essential to ensure that the checkout process is as streamlined and smooth as possible. One way to improve the online checkout process is to use platforms specifically designed to sell digital products, as they usually come with a built-in checkout process optimized for digital sales.
But what if your platform to sell digital products doesn't have a built-in checkout process? In this guide, we will discuss the ways you can use to make your checkout process easier:
So, how to make the online checkout process easy?
Make the Checkout Process Mobile-Friendly: With the increasing popularity of mobile devices, it's crucial to make sure that your online checkout process is mobile-friendly. This means that the checkout process should be optimized for smaller screens and touch-based navigation. This can be achieved by using a responsive design that automatically adjusts the layout to fit the screen size of the device being used. Additionally, using larger fonts and buttons can make it easier for users to tap on the elements they need.
Make use of a Progress Bar
A progress bar can help guide customers through the checkout process and give them a sense of how far along they are. This can help reduce any confusion or uncertainty customers may have about how many steps are left in the process. Additionally, it can help customers identify where they may have left off in case they need to come back to the process later.
Provide a Variety of Payment Alternatives
Offering a variety of payment options is a great way to make the checkout process easy for users. This includes traditional options such as credit and debit cards, as well as newer options such as digital wallets and mobile payments. By providing multiple options, users can choose the one that best suits their needs and preferences. Additionally, by providing multiple payment options, you can reduce the chances of lost sales due to payment-related issues.
Don't Require Login or Membership
Requiring users to create an account or log in can be a major barrier to completing a purchase. Many users may not want to create an account, and may abandon their shopping cart as a result. To make the checkout process easy, allow users to complete their purchase as a guest or with minimal information required.
With Shoprocket, no signup is required to checkout, in fact we don't even offer signups, because we believe customers should't have to create an account with every store they shop from, checkouts should be so easy that it's simply not required. We've spent years optimising our checkout to ensure the absolute best conversion rated, and we continue to optimise, so you'll always be one step ahead of the competition.
Install Security Features at Strategic Locations
Security is a major concern for online shoppers, and it's important to ensure that your checkout process is secure. This can be achieved by installing security features such as SSL encryption and secure payment gateways at strategic locations throughout the checkout process. Additionally, providing clear and visible security seals and trust badges can help to reassure users that their personal and financial information is safe.
Request Only the Necessary Information
During the checkout process, it's important to only request the information that is necessary to complete the purchase. This includes the user's name, address, and payment information. Avoid asking for unnecessary information, such as phone numbers and email addresses, as this can be perceived as intrusive and may discourage users from completing their purchase.
Clear and Intuitive Layout
Having a clear and intuitive layout is crucial for the success of any online business. The layout should be easy to navigate and must prominently display the most important elements, such as the shopping cart and the checkout button. The use of clear labels and instructions can also help to guide users through the process.
Fast and Reliable Checkout Process
Another important aspect of a smooth checkout process is to have a fast and reliable checkout process. This can be achieved by using a fast and secure hosting platform and optimizing the code and images used on the website. Using a Content Delivery Network (CDN) can also help speed up the checkout process by reducing the website's load time. Additionally, implementing load testing and performance monitoring tools can help to identify and fix any issues that may arise.
Include a "Save for Later" Option
Include a "Save for Later" option for items that are in the shopping cart but not ready to be purchased yet. This allows customers to save the items they're interested in for future reference and purchase. This can also be useful for customers who may be price-comparing or unsure if they want to make the purchase at the moment.
With Shoprocket, we automatically store carts in your customers' browser, so they can return at any time to complete the checkout, without having to signup.
Provide Customer Support
Providing customer support during the checkout process can help to alleviate any concerns or issues customers may have. This can be done by including a chat or phone support option or by providing an FAQ page with common questions and answers. This can also help to increase customer trust and satisfaction.
The Bottom Line
Making the online checkout process easy and user-friendly is crucial for the success of any online business. A smooth and efficient checkout process can help to increase conversions and customer satisfaction, while a complicated or time-consuming process can lead to shopping cart abandonment and lost sales.
By implementing some or all of the strategies discussed in this article, businesses can improve the checkout experience for their customers and ultimately drive more sales. Additionally, it is important to keep in mind that the checkout process should also be regularly evaluated and optimized based on customer feedback and performance data. With a user-friendly checkout process, businesses can increase customer satisfaction and build a loyal customer base.
If you are looking to sell digital products online, Shoprocket can turn out to be the best option. Get in touch with our team to know how we can help you grow your eCommerce business.