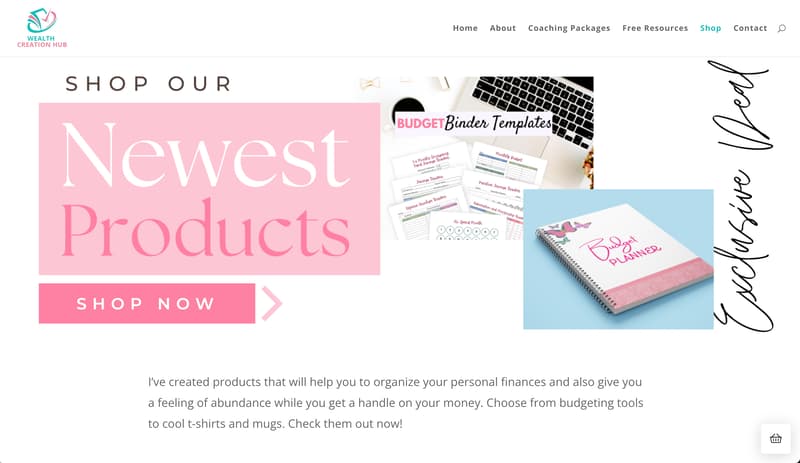 There's never a perfect time to start an ecommerce business. In fact, you can start on your lunch break. If you look at global retail ecommerce sales trends, you'll see that it's been trending upward for the past 10 years and show no sign of slowing down. It's now projected to reach 6.3 trillion dollars in 2023 so if you've been dreaming of starting your business, an ecommerce store is a great choice.
To help you get started, we have put together 5 simple steps. These steps will take you from 9-5 worker bee to a side hustling entrepreneur or full-time business owner in as little as 60 minutes. That's the same amount of time it may take to purchase and eat your zesty chicken salad, chat with your co-worker about the latest fashion trends, and devour a yummy slice of chocolate cake. The best part is that this list won't hurt your pocket.
If you're planning to sell physical products, digital products, online courses or venture into drop-shipping, these steps will stir you in the right direction. It is the same list that wealthcreationhub.org used to get started:
Purchase Domain: ~$10
Design Your Brand Elements: Free
Sign Up For A Payment Processor: Free to setup
Build Your Website: Free - $50/mo
Integrate Ecommerce Shop: $29/mo
Purchase Domain ~$10
The first step to consider is the domain name of your business. On average, a domain name may cost you $10 and requires renewal each year with your domain registrar. You can purchase your domain name from Godaddy.com, Namecheap.com or Porkbun.com. But before you do, you want to choose a domain name that matches your brand.
Here are a few tips to follow when purchasing a domain:
Include relevant keywords
Adding a keyword-optimized domain helps your business to rank higher on search engines when a shopper searches for a specific product. For example, if you're a candle maker, it's a good idea to choose a name that includes the word candle. For example, www.yankeecandle.com
Keep the domain short
Ideally, you want to keep it to 20 characters or less, even though you're allowed up to 67 characters. Having a short domain name is beneficial for many reasons - it's easier to remember, type and read. For example, visitors are more likely to recall a name like allrecipes.com than a domain name like tastesbetterfromscratch.com.The only drawback is that short snappy domains tend to be more expensive than long domains. You can decide what's important to you - snappy or affordable - based on your budget.
Design A Brand Kit - Free
A brand kit is a quick guide to your brand's unique visuals. It contains your logo, colors, fonts and the overall message of your brand. Designing your brand kit doesn't have to be complicated. In fact, with one of our favorite tools, Canva, it can be exciting and helps you add life to your brand. The free version of Canva comes loaded with awesome features.
Once you have created your brand kit, it'll go a long way in pulling all your online assets together so they have a consistent look and convey the same message.
Your brand kit comes in handy in the next step but before we get there, you need to know a little more about the three main brand kit elements that you'll need:
Logo
Color Palette
Signature Fonts
Your Logo
Your logo is a visual representation of your brand and helps to tell your brand story through a small but memorable icon. Get the most out of Canva by designing a logo from scratch or start with one of the logo design templates to get it done quickly.
Color Palette
It's important to set the tone and vibe of your brand with a color palette. For example, you may have noticed that healthy food brands tend to use natural color tones from nature such as shades of green and brown. The Canva color palette generator is a fun tool that gets the job done. Just upload an inspiration image and in less than 5 seconds you'll have a color palette that shows off your brand's personality.
Signature Fonts
The type of font you choose will help in identifying your brand and also helps you keep things consistent across all written communication such as on your website, social media posts and emails. Brand consistency is very valuable and helps make it easy for customers to identify you from the dozens of brands on the internet. Check out the hundreds of fonts available inside canva, Google Fonts or at dafont.com to find a pair that works best for your brand.
Payment Gateway - Free
Online payment service providers help you accept all forms of online payments from cards & digital wallets to bank transfers and cryptocurrencies. PayPal, Stripe and PayU are common payment service providers trusted by businesses worldwide. You just need to create an account with your chosen payment provider, and then enter that information in your website builder to enable payments on your website. Shoprocket.io has made it easier than any typical manual integration with our 1-click connect integration tool found in your dashboard.
It's free to set up an account with PayPal, Stripe or PayU. You are charged a relatively small fee per successful transaction.
Price: average of 2.9% plus $0.30 per transaction depending on your country.
Price: 3.49% plus $0.49 per transaction
Price: 2% + GST per transaction.
Check with your preferred payment service provider to see if it's available in your country.
Building your website - Free
Now that you have your domain name, logo, brand color palette, brand signature font and you've signed up for your payment service provider, it's time to build your website and configure your shop.
A website builder is a web tool that allows just about anyone to create a website without designers and programmers. It is the perfect solution for business owners on a tight budget.
You can choose to start a single or multi-page website. The first step is to decide the type of pages and the content you want on each page. Overall, your website pages help customers learn more about your business. Most websites have at least a Homepage plus additional pages such as an About Us page and a Blog.
We have listed four website builders that'll allow you to quickly create a solid website with an excellent design that you can launch in just about twenty minutes. The best part is that these website builders offer a free plan or at least a 14-day trial.
Best If You Want A One Page Website
Carrd is a straightforward site builder perfect for building microsites. You can build one-page websites with just a few clicks and integrate sign-up forms, google analytics and embed just about any third-party apps such as Stripe and Typeform.
Price: $0.
Build up to three sites on carrd.co for free.
Perfect for Bloggers, Photographers and Creatives
As a creative and blogger, you want to add a wow factor on your website to entice your fans to engage with your content and purchase your merch and other cool products. Showit has several well-designed templates to help you to do just that.
Price: Starts at $19 per month.
Test drive it for 14-days on a trial plan.
Ghost is the best website builder to use if you want to offer a paid subscription for customers to access your content. It's one of the most popular tools for blogging that allows you to send newsletters right from the same dashboard.
Price: Starts at $9
The most popular plan on Ghost is at $25/month. You can start a trial totally free for 14-days.
Versoly is ideal to build websites and landing pages for just about any type of business. Get it integrated with your favorite tools in minutes without compromising on SEO and load times.
Price: Starts at $0.
You can start entirely for free and build up to three sites without having to upgrade to a paid plan.
Integrate Your Ecommerce Shop - $29/mo
Whether you have a single product to sell or multiple products, your next step after building your website is to enable ecommerce. This means you upload your product information such as photos, videos, descriptions, product variations, prices, digital downloads, and more.
But you might have noticed that these website builders don't offer built-in ecommerce features. Fortunately, we have that covered here.
By using Shoprocket.io, in a matter of minutes you can have a complete ecommerce shop on your website that's ready to accept orders and process payments.
Let's discover how Shoprocket can be used to set up an ecommerce experience for your customers on your website.
The first step is to sign up for Shoprocket with a 14-day free trial.
Next, add your products, or upload them with a CSV file if you already have a catalogue or products ready to go.
Once your products are uploaded, you can set up your tax & shipping, and connect your payment gateway (which can be done with a single click!)
Finally, grab your shoprocket embed code, and paste it into your website where you want to showcase your shop. This embedded code will then display your full ecommerce store on your website, along with a shopping cart and complete checkout, ready to go.
It's that simple!
Types of Embed
The simplest embed is the buy button. These can be added to any existing page or blog post, ideal for adding ecommerce functionality to an existing product page or article
You can also embed a single product as a "widget" or even a "full page product" into a blog post or your home page
You can also embed multiple products (a complete store) for example, embedding a list or grid of products on your shop page. Along with filters, search, multi-currency/language and categories.
Shopping Cart
When you embed Shoprocket into your site, it automatically loads the basket into your page too, along with the full checkout and your chosen payment gateways. You can also embed the basket specific code into your site header/footer to display the cart on every page of your site, allowing your customers to checkout at any time.
See more about how it works for various site builders:
Price: Starts at $29 per month
Now that you have seen the painless method to launch your ecommerce business, you may be wondering about the average time it takes to complete each step. Here is the breakdown:
Purchase Domain: 5 minutes
Design Your Brand Kit: 15 minutes
Set Up Payments: 10 minutes
Set Up Ecommerce Store: 30 minutes
Total time: 60 minutes
Just about the same time as your lunch break, right?
And if you follow our steps, you'll leave a whole lot of cash in your wallet considering that the total cost to set up your ecommerce store is between $39 - $89 depending on your preferred website builder.
Conclusion
Starting an ecommerce business doesn't have to be complicated or expensive. It's an exciting opportunity you can enjoy. With just a few steps, your idea can become an online business without hiring a designer or programmer, and spending weeks getting started. So if you've already figured out how to log into a social media account, post your favorite photos and watch funny videos, you can also create an ecommerce business the next time you sit down to have lunch.