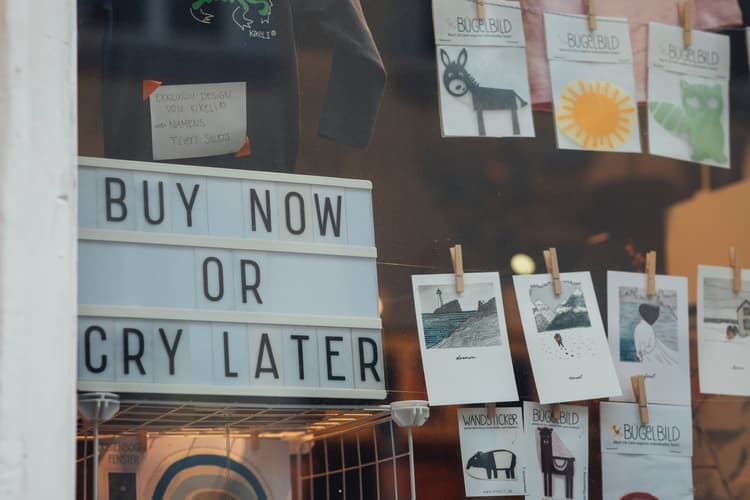 September 12, 2017, marked the end of an era as the patent expired for Amazon's "1-Click" button for ordering. Fast forward to 2022 and we're swamped with startups promising us "a new age of checkout" but is it a fallacy?
---
Update 8th April 2022 - Now that Fast has collapsed and closed down, I can post this:
---
The idea that consumers could enter their billing, shipping and payment information only once and then simply click a button to buy something going forward was unheard of when Amazon submitted the patent in 1999, and it revolutionised online shopping for millions of consumers.
Arguably, that patent prevented other companies from offering similar solutions (regardless of how vague it was), but once that patent expired, a new gold rush for "1 click checkout" began.
There are now so many of them, that it's almost impossible to even find them by name, the competitors are scrambling to rank in Google for names that are incredibly vague.
Names like "Fast" and "Bolt" may sound great, but a quick search for "Fast" returns 5.5 BILLION results, none of the first 10 pages of Google results are for the "1 click checkout" company. Even expanding your search to "Fast pay" does not return the company in question. In fact, you'll find a company called "FastPay" first, which seems to offer similar checkout tools...
Likewise, "Bolt" is almost impossible to find on Google.
This may not sound like a big deal, but it's an early warning sign that these companies aren't following the steps that the rest of us mere mortals take. They don't seem to care much about being found, there's very little information on their websites about how it actually works, but plenty of hyperbole about how much more money you'll make by using "1 click checkout".
But here's the thing, paypal-shopping-cart">PayPal has essentially offered a 1 click checkout for decades. That's what PayPal was (and is) - a place to store your payment info & addresses securely, then just click "pay with PayPal" at checkout and bypass the usual flow of registering, adding payment details, addresses etc.
You may be wondering why that matters. This time last year PayPal (PYPL) was trading at $300 per share. Today it is $97 per share.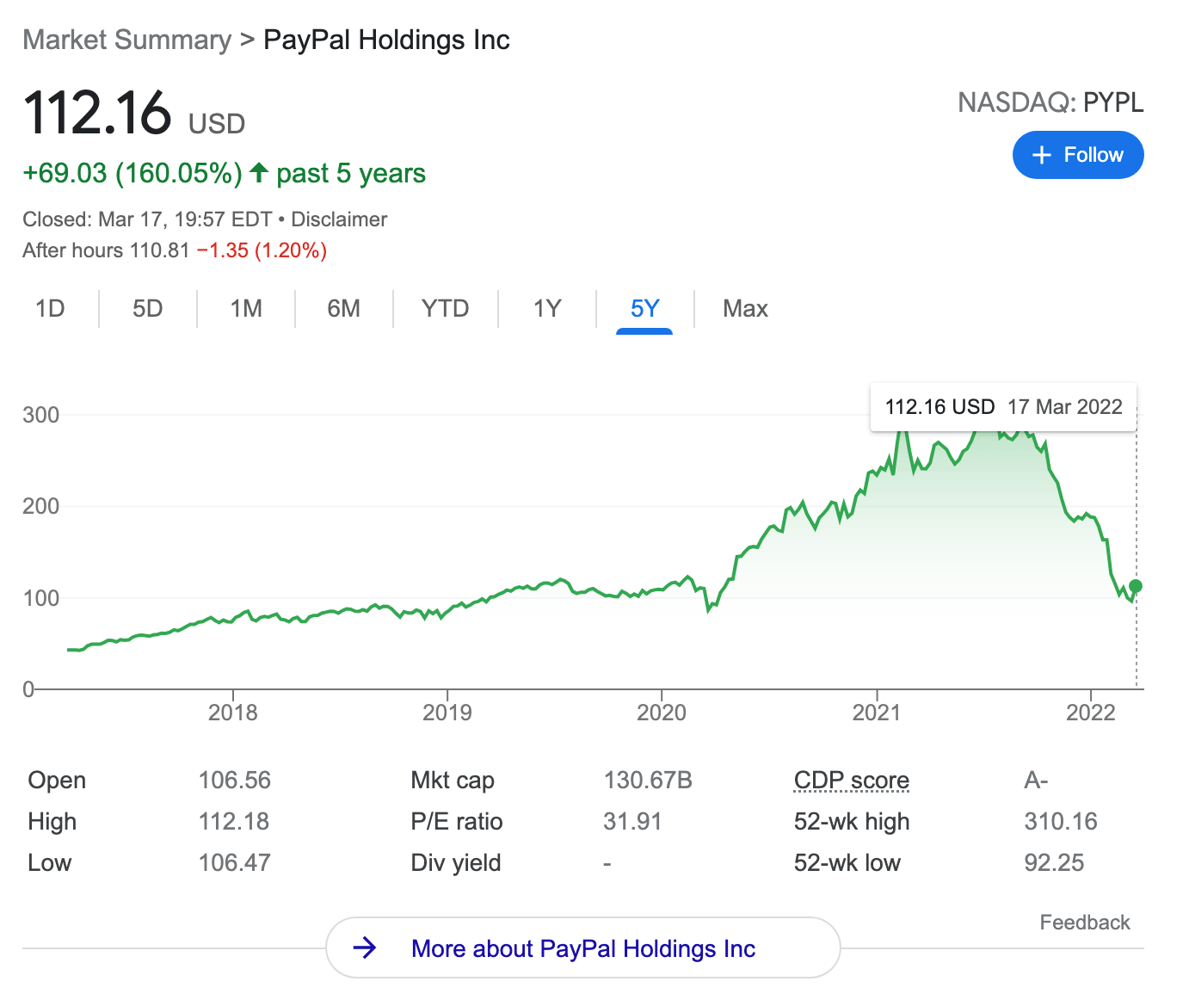 PayPal share price" title="PayPal share price">
This isn't an isolated event, share prices have been rocked across the tech sector, due to many external factors. But whilst established businesses are preparing battle plans for hyperinflation and supply chain issues, the likes of Bolt & Fast have collectively raised close to $1.5 BILLION in funding, to seemingly offer something that PayPal has offered for years, and the likes of Stripe quietly already offer in their own checkout. (in fact, Stripe rolled out "1 click checkout" in 2014)
But it gets more interesting...
in 2020 stripe-leads-investment-in-one-click-shopping-provider-fast/">Stripe led Fast's funding round, contributing $20m.
Why would stripe-shopping-cart">Stripe invest in a company that offers "1 click checkout" when they already offer that?
The underlying technology behind Fast's "1 click checkout" is Stripe. Stripe is Fast, Fast is Stripe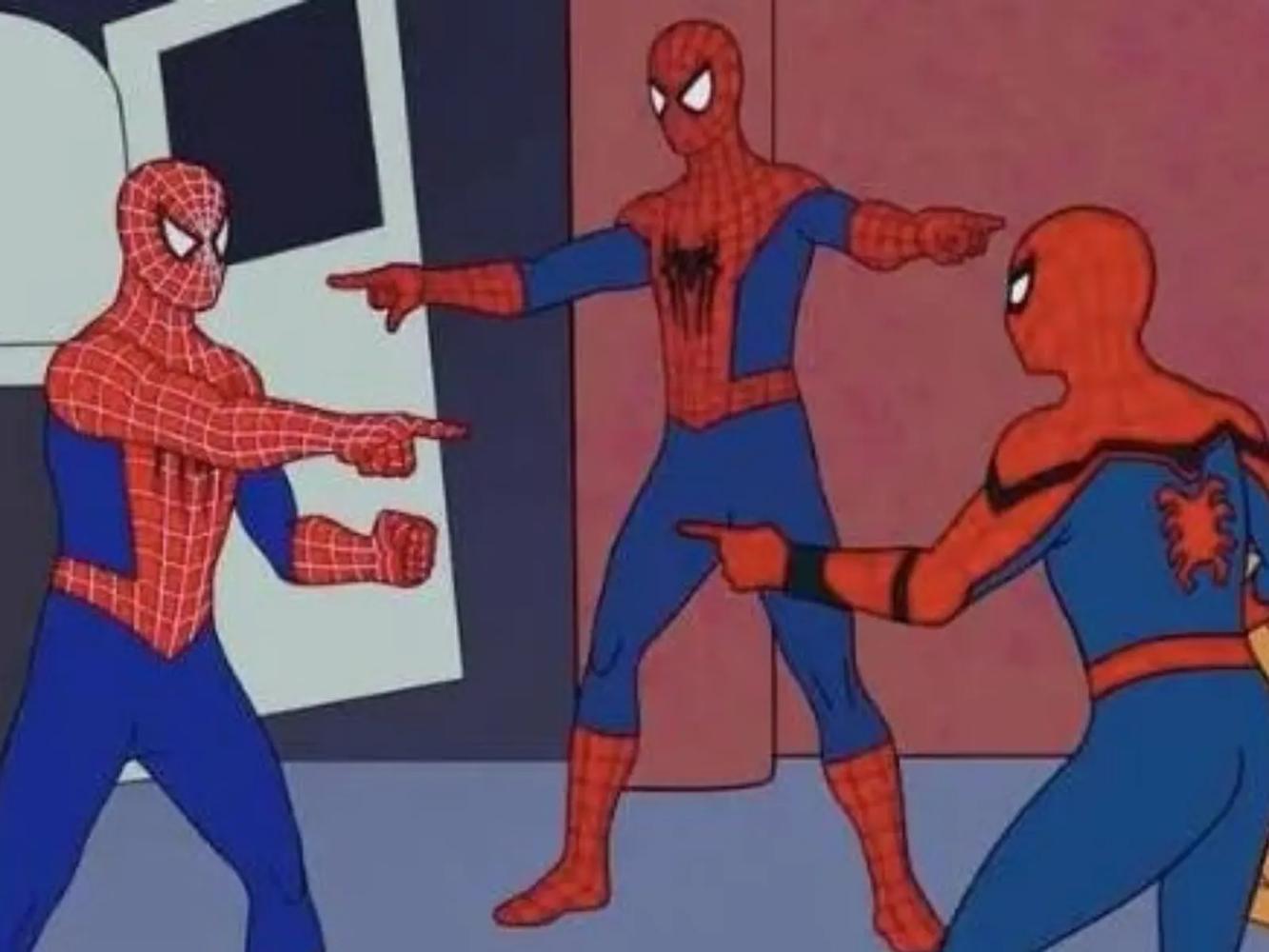 Stripe is Fast, Fast is Stripe" title="Stripe is Fast, Fast is Stripe">
So now we've ascertained that things may not all be as they seem, let's take a look at recent events from Bolt's CEO, Ryan Breslow.
In January of this year, Breslow unleashed a Twitter thread, claiming that Stripe & YCombinator are essentially a "mafia" controlling the industry, picking & choosing who succeeds and fails.
That Twitter meltdown ultimately led to him stepping down as CEO.
Now, I'm not in a position to know whether there was any truth in his tirade, but something immediately stood out; Breslow has raised $1.3B for Bolt, and here he is calling out Stripe & YCombinator for hindering his progress? That simply doesn't make sense.
It gets more interesting, around the same time it was revealed that Bolt has 300 merchants using their 1 click checkout. 300?
Let's summarise what we know:
1 click checkout companies have been raising funds at almost unprecedented rates
The volume of merchants using these services is shockingly low
Ryan Berslow of Bolt managed to raise $1.3B, then claim sabotage when they seemingly failed to grow at their expected rate, then stepped down as CEO
The two leading 1 click checkout players only have ~1,000 merchants between them
PayPal has 30 million
Stripe has over 3 million merchants and has only raised $2b (less than twice that of Bolt, but has 10,000x the adoption)
You can probably see where I'm going with this, but before that, let's take a quick step back and evaluate what problem these checkouts are actually solving.
On fast.co/">Fast's homepage, you can find a beautiful demo, which at first glance makes complete sense. There's a product, and there's a buy button. So far so good.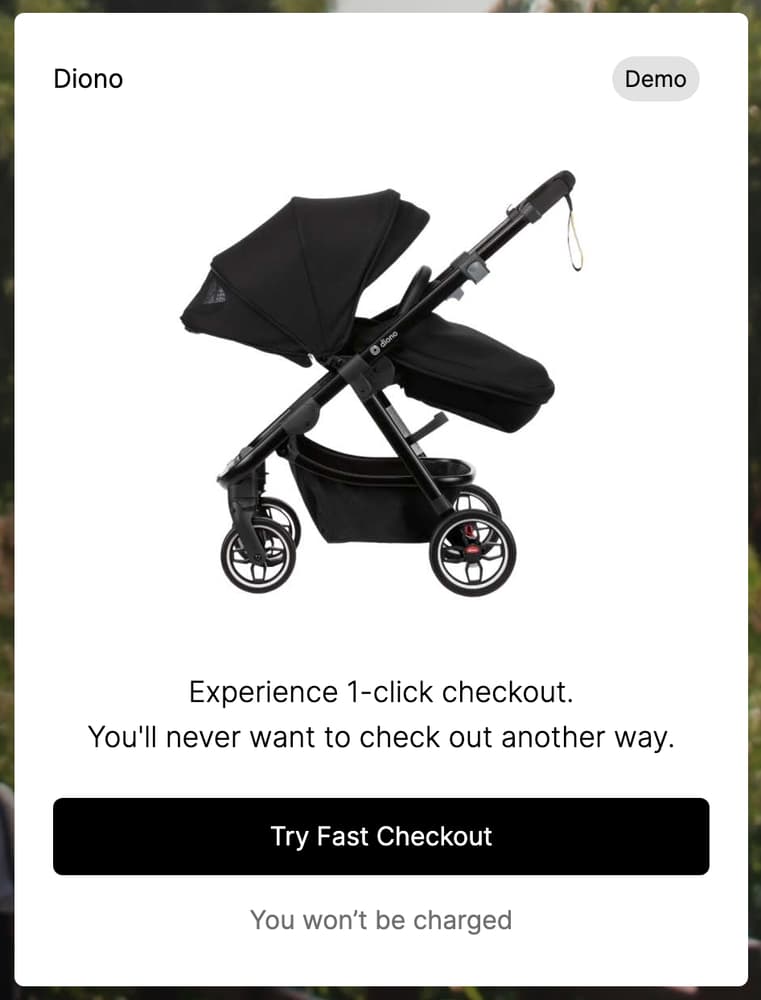 Clicking that blog/how-to-add-full-ecommerce-to-any-existing-website-in-minutes">buy button shows a message that your order is placed, impressive! It was indeed, 1 click.
But what's this?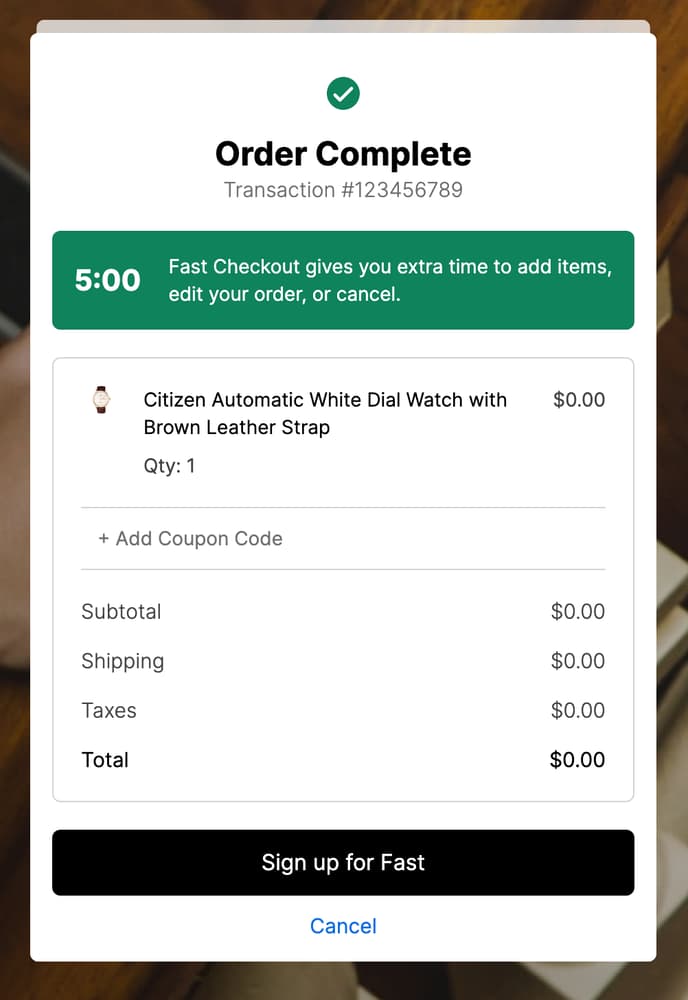 I have to sign up for Fast?
Well yes, of course you do. It's not magic. You have to create an account with Fast, then you can checkout with Fast in the future easily. But how is this any different from PayPal or Stripe's "Remember me" feature?
The reality is, it's not.
Now, there are other features on offer here, but the core USP is "1 click checkout" - which isn't actually 1 click, unless you've already signed up and registered with Fast.
Also, 3D secure (PSD2 SCA) is now a legal requirement in the EU and has been since 2020, so even if you are a previous Fast user, there will be some form of 2-factor authentication at checkout, so it's "sort of 1 click checkout"
Also, don't forget shipping, Fast may know your payment details and your address, but you still have to choose a shipping option in most cases, and confirm which address you want it shipped to. Fast has tried so hard to get your order placed as soon as possible, that they actually do all of the normal steps after payment.
You click "buy" and your order is placed. Now you have the chance (5 minutes to be precise) to add more items, choose your shipping options, and confirm the order. What happens if that merchant doesn't ship to your location? You'll have to cancel the order. Maybe they don't offer free shipping, and suddenly you're presented with an unexpected cost (which is automatically charged if you don't cancel in 5 minutes) same for taxes, the price you see before paying, isn't necessarily the price you'll pay.
The deeper you dig, the more problems that arise. Problems so basic, that we've taken them for granted for nearly 30 years of eCommerce.
Ultimately, these "1 click checkouts" generally aren't really 1 click, they add more levels of complexity for both the merchant and the customer, and they may not even be entirely legal (Consider accidental clicks, unauthorised access, 2-factor authentication) many of these things have been overlooked or simply ignored. If they are doing 2-factor authentication on every charge (as EU law requires) then quite simply, it's not a 1 click checkout.
That doesn't mean 1 click checkouts are doomed, but maybe "1 click payment" would be a more appropriate name.
So what's actually happening here?
Quite simply, it looks and sounds like vapourware. These companies have raised huge funds but onboarded very few merchants. They boast figures about exponential improvements to conversion rates, yet very few people seem to use them?
The future of commerce is variety and customisation, customers want to see localised payment options, they want to see credit options, buy now pay later, they want choices. The very premise of "1 click checkout" is the exact opposite.
In order to reach widespread adoption, they need vast amounts of customers to signup and enter their details. In order to gain those customers, they need to on-board vast amounts of merchants who will integrate their checkout, and that just hasn't happened.
What's the solution?
The obvious answer to these problems is to simply offer 1 click checkout (or 1 click payment) via existing gateways, which already have the merchants and the customers. Stripe (quite wisely) generally stays out of the actual shopping flow, they stick to what they do best, payments.
Stripe could rebrand their "remember me" function, and instantly offer a much better experience. Stores would still handle their shopping cart, shipping options, taxes, discount codes, and Stripe could take over at the payment stage. (this is essentially what they already do)
And that's the punchline. We already have incredible tools available for making eCommerce seamless. Here at Shoprocket, we've always pushed back against merchants who asked for user accounts or the ability to register during checkout. The vast majority of stores don't (and shouldn't) need user accounts. Personal information can be populated into address fields via your browser, password managers, or at most, using an "email me a code" option which will simply populate your address data once you verify your identity.
The payment stage of checkout is already as good as it needs to be, whilst being compliant, secure and intuitive.
"1 click checkouts" are trying to solve a problem that doesn't exist, and it's quite likely that we're all witness to $1.5 billion being washed away on a fool's errand.