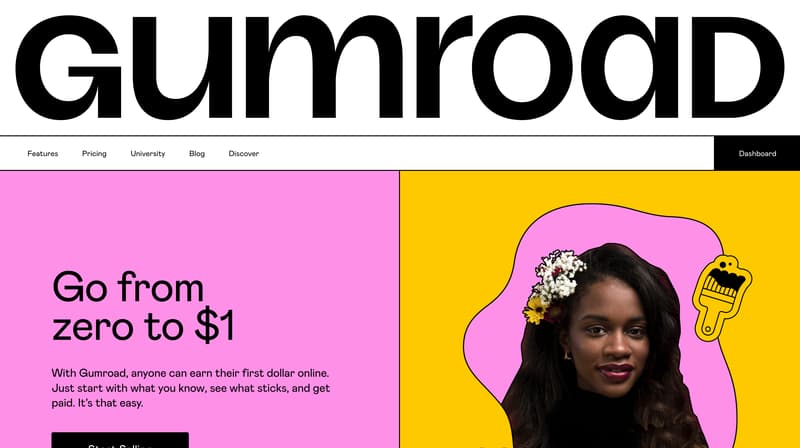 Gumroad holds a special place in many sellers' hearts. When it launched, it was one of the only platforms that made it easy to sell any kind of digital product. While it was, and still is, a great way to start an online business, it does have some significant downsides. Fortunately, there are other options out there that offer the same features as Gumroad, plus some additional features and better pricing. Here is why we think you should look at Shoprocket, the best Gumroad alternative that doesn't charge you for succeeding.
Gumroad Is Great But Has a Serious Flaw
Gumroad is a platform that gives you all of the features and tools that you need to sell digital products. The keyword here is "digital", meaning the platform only supports digital goods but falls short when trying to sell anything else. With features like online advertising, a hosted storefront, and built-in payment processing, it's no wonder so many people flocked to Gumroad over the years.
The Inherent Problem With Gumroad
Despite all of these great points, Gumroad has a few major flaws: its pricing/payout structure is one. It takes a percentage of every sale plus Gumroad's fee of 30 cents (current as of April 2022). The percentage that they take does reduce based on how much money you have made overall, but that still means that the more you make, the more fees you pay.
The other problem that you'll see many a Gumroad seller complain of, is the payouts. Gumroad (and other platforms) actually charge your customers for you, using their own payment gateway (usually Stripe) and they then send you your funds at a later date. This means they hold your money, and you have to wait.
There is a Better Way: Shoprocket's Pricing Structure
Shoprocket is a leading Gumroad alternative and solves the fee problem that plagues Gumroad users. Instead of charging per transaction, Shoprocket charges a monthly fee. There are three pricing plans that you can choose from with different levels of access to support, management, and advertising features.
However, that monthly fee is the only cost to use Shoprocket. You don't pay more as you make more money; your payment always stays the same.
Gumroad vs. Shoprocket
In a head-to-head comparison of Gumroad vs Shoprocket, they are pretty evenly matched except in a few key areas. So you can expect high-quality solutions and services no matter which option you choose and it's easier to switch from Gumroad to Shoprocket.
Both have many of the same features, such as:
Unlimited sales
Unlimited products
Payment processing
Integration with other websites
In many ways, you can be happy with both options, but there are some differences that will sway your decision toward Shoprocket being the better option.
Other Ways Shoprocket is Better than Gumroad
Aside from a better pricing system, Shoprocket has additional features that make it a better option over Gumroad. Here are a few options.
Sell anywhere - Really
Gumroad boasts that you can "sell on your own website" - but this isn't entirely true. Like many ecommerce platforms, what you actually get is a "hosted storefront" accessible via a Gumroad URL, that you can then embed on your own website with iFrames (usually in a pop-up). Not only are iFrames considered bad practice and a security risk, they also prevent you from having any real control over the content. They're also invisible to search engines, meaning your products won't rank on Google if they're displayed in an iFrame.
As they're simply loading an external site in an iFrame, you'll also notice they're significantly slower.
Try it yourself:
Shoprocket never uses iFrames, we use bleeding edge technology to instantly and directly embed your products anywhere. This means you have total control over the style, content, and most importantly, Google can see it!
You'll also find that Gumroad uses "buy buttons", meaning you can embed one product buy button at a time into your website, but this isn't true ecommerce. With Shoprocket, you can embed your entire list of products into your page, or just products from a specific category, or indeed one product at a time, if you so choose.
Whatever Shoprocket embed you opt for, you'll notice one thing they have in common; speed.
Here's an example of how we display your products anywhere, and just how fast it is:
Customisation
Shoprocket lets you customise every aspect of the ecommerce experience. For example, you can customise your email templates, create product variations and SKUs, use custom branding and personalise every element with your own on page CSS. All of these are important to make your business your own. They are the key areas that people look for when they look for a legitimate e-business store. For sellers on our Enterprise plan, you can hide the Shoprocket branding completely, creating a truly bespoke shopping experience.
Promotions
Shoprocket also has a promotions feature that gives you the tools to improve your conversion rates. The most important of these is the abandoned cart recovery feature that lets you try to communicate with customers that started orders without finishing them. You've already done the hard work to capture their attention, now you can use this tool to complete the checkout, increasing your sales significantly in the process.
Start Selling with Shoprocket
Shoprocket is an easy-to-use, easy-to-master ecommerce platform that lets you sell any product (not just digital) with a better price structure that lets you keep your earnings when you succeed.