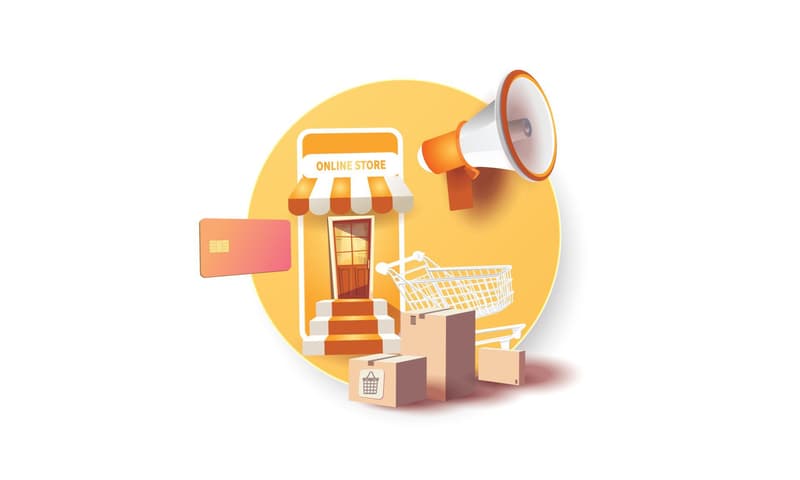 Gone are the days when people used to shop from a brick-and-mortar store. Nowadays, the world is going digital & eCommerce is one of the fastest-growing sectors. According to Statista, online retail sales will reach $6.51 trillion by 2023, with eCommerce websites taking up 22.3% of total retail sales.
Not only can online businesses benefit their customers but business owners as well. For customers, it allows them the convenience and flexibility to shop from the comfort of their homes. On the other hand, business owners can expand their business over the sea and take their business ROI to the next level.
So, if you also want to expand your business, turning your physical store into an online store can help you reach your business goals. However, starting an online business is not an easy task. From setting up an eCommerce store to choosing the best products to sell online, there are several things you need to decide before starting an online business.
This guide will explain everything you need to know before starting an online store. So, let's get started.
How To Start An Online Business Selling Products?
Starting an online business requires a lot of planning. You can't expect success just by choosing a random product to sell on your website or uploading a few images. A good eCommerce business depends on your passion for it and what you are good at selling.
So, if you are wondering how to start a business selling products online, you need to devise a unique strategy for how you are going to do it well and decide what the right product is for you.
Here are a few steps you can follow to start an online business:
Decide Your Product: While there are millions of products to sell online, not all products have the same potential for success. That's why it's essential to make sure you choose the right product to sell online. Having the right product can determine whether or not you make a fortune from your online business, so it's important to think critically about the product you're going to invest in.
In order to choose the right product, you need to:
Determine what type of market you're selling to
In order to decide on what product is best for your online business, you need to do your research and figure out who your target audience is and what they need. So, ask yourself some important questions about the product you're considering, like
Is it something that solves a problem for your customers?
Is the product unique and in demand?
Does it have strong features that set it apart from the competition?
The answers to these questions will help you decide if the product has potential.
Know your competitors
Before you start selling products online, you need to make sure that the product you're selling is relatively novel and not saturated in the online market. Make sure that you don't choose a product that's been done before. Keep an eye out for trends and find something that's new and exciting.
When it comes to selling a product online, price is also a major factor. You have to make sure that you're not overcharging for your product, or customers won't be motivated to purchase it. On the flip side, you also want to make sure that you're not undercharging and potentially losing money. Do your research and identify the right price point for your product.
Your brand name is often the first thing potential customers hear of your business, and so a recognizable brand name makes a good impression on your customers. Moreover, it is essential for driving traffic to your website and creating a buzz about your business. So, make sure it is easy to spell, has keywords that are associated with your product or service, and captures the true essence of your business. This will allow you to build a consistent brand identity
Decide Where To Sell Products Online
In order to sell online, you need an eCommerce store. So, you need to decide how you will sell your products. You can either choose to sell via:
A full-fledged eCommerce store
When you choose to sell via a fully-fledged eCommerce store, you have the flexibility to customize your store as per your needs. Moreover, you have access to the information of your customers, allowing you to stay in touch, build strong relationships and provide them with the best shopping experience. You also need not share your profit with anyone. If you already have a website, you can add a shopping cart to the website using an online site builder tool, such as Shoprocket.
On the other hand, when you choose to sell via an online marketplace, like Amazon, Walmart, or eBay, you need not set up and maintain an eCommerce store. Since you need not market your brand on various platforms, you will be able to lower your customer acquisition costs. However, in this case, you won't ever be able to establish yourself as a brand. Plus, you have to share your profit, and you won't be able to establish relationships with your loyal customers.
Another way you can choose to sell your products online is through social media channels and blogs. This method is ideal for those who don't have a high budget and can't invest in building an eCommerce website. All you need to do is add shopping cart options to your accounts. You can do this via an online site builder tool like Shoprocket.
Decide Your Payment Options
A good payment system will give customers several options when it comes to making their purchases. Common payment methods accepted by online stores include Credit Cards, Debit cards, PayPal, Stripe, and more. Be sure to do your research and select payment methods that best fit your business needs and your customers' preferences.
When selling products online, you'll need to decide how you are going to ship the products to customers. If you're selling physical products, you'll need to make sure you have a reliable and efficient shipping system in place. Research the different shipping services available and their rates. You may even be able to negotiate better rates with certain services depending on your order volume.
Now that you have your store set up and ready to go, it's time to get the word out and start selling products. Promotion is key for online businesses & you'll want to make sure you use a variety of methods to drive traffic and increase sales. Social media, search engine optimization, and email marketing are just a few of the methods you can use to get the word out. It's also important to make sure your website is optimized so customers can easily find the products they are looking for.
What Is A Good Niche Product To Sell Online?
Now that you know how you can start an online business to sell your products, it is time to decide what is the best product to sell online. Ranging from physical products, like toys, clothes, shoes, and many more, and digital products, including eBooks, software licenses, online courses, etc., there are an endless number of products to choose from.
According to Small Business Trends, 90% of eCommerce businesses fail within four months of launch. While the reasons behind the failure of an eCommerce store are many, not selling the trending products is the primary one. That is why it is crucial to identify your niche market for your eCommerce business.
So, what are the best products to sell online?
Physical products are tangible items that can be touched and felt. These products usually require warehouses for storage and shipping to the consumer via third-party suppliers or courier companies. A few examples of physical products you can sell online include:
Skincare products, such as moisturizers, cleansers, and serums, have been a go-to for many people looking to improve the appearance of their skin. In 2021, the global skincare market was worth $130.5 billion and is expected to grow at a CAGR of 4.6% from 2022 to 2030. So, you can sell popular skincare brands such as Maybelline, MAC, Olay, etc., or even create your own products.
Fitness equipment is one of the most popular items to sell online due to its widespread use, especially after the COVID-19 pandemic. In 2020, the global fitness equipment market size exceeded $15 billion and is expected to grow from 2023 to 2032 at a CAGR of 4%. So, you can sell anything from yoga mats to dumbbells, stretch bands to balance boards.
Home décor items are popular with interior design fanatics looking to enhance the look of their home. The global home decor market in 2019 was valued at $616.6 billion and is expected to grow at a CAGR of 3.9% and reach $838.6 billion by 2027. So, you can offer pieces for décor and practical use. Think about selling rugs, art prints, furniture, lighting fixtures, etc.
Digital products are virtual products that users can access digitally. Usually, digital products are stored, delivered, and used in their electronic format and shipped electronically to the consumer via email, or merchants can sell the digital downloads online. A few examples of digital products include:
Cloud-based services are a great way to offer digital products to customers. These services can include web hosting, file hosting, audio and video streaming, and more. In 2016, the global cloud-based services market was worth $28.9 million and is expected to grow at a CAGR of 10.2% and reach $57.05 million by 2023. So, you can choose to sell cloud-based services.
Graphic designs are digital products that can be created as prints or as online downloads. Customers can purchase digital prints such as wedding invitations, logos, business cards, flyers, and more. In 2022, the graphic design industry was worth $50.4 billion and is expected to grow at a CAGR of 5.2% and reach $83.8 billion by 2032.
eBooks are a great way to make money online. They are typically sold as PDFs, and the customer can download the file to their computer and read it on a variety of devices. The eBook revenue in the US reached $1.1 billion in 2021. So, there is a huge scope where you can earn a significant amount of money via eBooks. You can offer eBooks as a single purchase or as a subscription service.
A subscription box is a package of retail products that are sent to a customer on a recurring basis. Not only does this enable product companies to enhance their customer base but also make it easier for them to launch a new product in the market.
According to Statista, consumers will spend $38.2 billion on eCommerce subscription boxes by 2023. So, you can either choose to create a subscription box of your own items or source products to sell online from various marketplaces like Amazon, Walmart, or eBay.
If you are wondering how to source products to sell online, white-label products are one of the top ways. White label products, also known as private label products, are the products or services produced by one company that other companies rebrand and sell them under their brand name.
Similarly, you can find a manufacturer and rebrand their products with your brand name and choose to sell them online. White-label products include self-care items, pet accessories, LED lights, reusable bags, mugs, stickers, patches, phone accessories, etc.
The Bottom Line
No matter what product you choose to sell online, you will need an eCommerce website. However, creating a new website from scratch can be expensive and time-consuming. So, if you already have a website without eCommerce functionality, you can turn that website into an eCommerce website with the help of Shoprocket. All you need to do is embed the code snippet into your website HTML, and it will automatically add a shopping cart for your website!