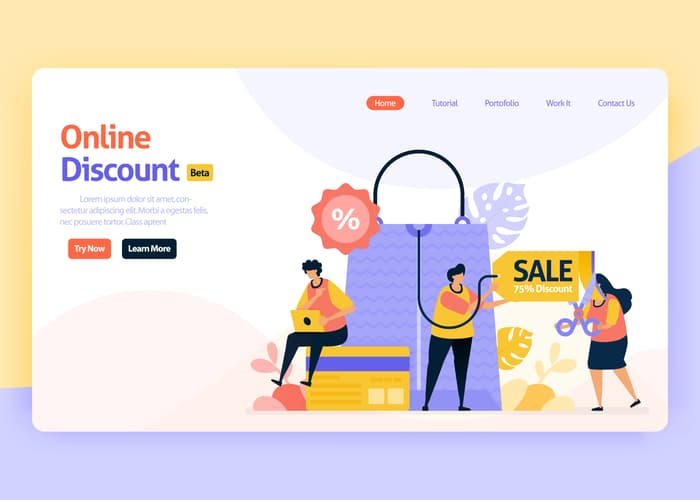 Undoubtedly, a website is a very important tool for any business in the modern world. It is a reflection of your company. It provides a way for customers and clients to find out information about your company and enables you to sell your products and services online. However, a landing page is as important as a website.
A landing page is a webpage where a visitor arrives after clicking on a search engine result or an online ad and learns more about what you offer. The most common difference between a landing page and a website is that a landing page is designed to persuade a visitor to take a specific action, such as making a purchase or subscribing to a newsletter. In contrast, a website is designed for more general branding and awareness.
According to HubSpot, businesses with 31-40 landing pages generate 7x more leads than those with less than 5 landing pages. So, you can't just stop at one landing page; the more landing pages you build, the more you can amplify your conversion rate.
Although a landing page is designed to increase conversions, designing a landing page is not enough. You need to design a high-quality and compelling landing page that provides your target audience a valid reason to take action. That is why it is crucial to optimize your landing page and use it as a platform to sell digital products or other services.
What Is Landing Page Optimization (LPO)?
Landing page optimization (LPO) is the process of optimizing a landing page to persuade users to make a purchase. It helps improve a landing page's performance, thereby increasing the conversion rate. However, landing pages fail to convert leads for various reasons, including:
Bad color choice and other visual elements

Poor headlines

Inconsistent CTA

Too many distractions

Failing to explain what you offer

Lack of credibility & visitor trust
By tweaking and optimizing various factors of your landing page, you not only improve your conversion rate but also significantly improve your online marketing results.
So, How to Optimize a Landing Page to Improve Your Conversion Rate?
A well-designed landing page is capable of efficiently addressing the audience's pain points. It involves the usage of compelling content that encourages users to take action. In order to optimize your landing page in the right way, you need to understand your audience. Once you know your audience, you need to set your goals and decide the actions needed to optimize the landing page.
Here Are a Few Best Practices for Optimizing a Landing Page:
Align Your Goal with Your Landing Page:
Aligning your goal with your landing page means ensuring that the purpose of the page and the actions you want visitors to take are directly related. Before you optimize your landing page, ask yourself what the purpose of the page is. What are you trying to achieve? Do you want subscribers or sales? How much and by when? Knowing answers to such questions will help you set the tone and design of your landing page.
When designing and optimizing your landing page, make sure that every element of the page is focused on helping you to reach your goal. For example, if your goal is to generate leads through a form on the page, the layout and design should be focused on encouraging visitors to fill out the form.
Focus on the Layout, Navigation, and Design of the Landing Page:
The layout, navigation, and design of the landing page are important because they impact the user experience and can affect the likelihood of visitors taking the desired action. A well-organized page with a clear hierarchy of information and easy-to-use navigation will help guide visitors toward the desired action.
So, make sure that the most important information is above the fold. This is the area of the page that is visible without scrolling. In addition, you need to pay attention to the design of your landing page. It should look clean and professional. Avoid using too many colors or graphics, as this can be overwhelming. Stick to a simple color scheme.
You can also add images and videos to make a landing page look more appealing. They can help to break up text and make the page more visually appealing. In addition, images and videos can be used to explain complex concepts or to showcase customer testimonials. Last but not least, ensure that your page is easy to navigate.
Include a Prominent Call-To-Action (CTA):
A call-to-action (CTA) is a button or link that encourages visitors to take a specific action, such as making a purchase or filling out a form. So, it should be clearly visible and placed in an easy-to-spot location. Use action-oriented language, such as "Get started now" or "Sign up today," to encourage visitors to take the next step. You can also use an online site builder tool like Shoprocket to add a buy button or add a CTA to your landing page.
Use Clear and Concise Headlines:
Your headline is the first thing visitors will see when they land on your page. It can make a good impression and convince someone to stay on your page. So, make sure you use clear and concise headlines that can grab visitors' attention and communicate the page's main message. Avoid using jargon or overly complicated language, and focus on making the headline easy to understand and relevant to the visitor.
When choosing the headlines for your landing pages, make sure:
Your headline is short, ideally no more than eight words. Long headlines can be off-putting and make it hard for users to digest the information.

Your headline is unique and stands out from the rest. It should be something that will make users remember your landing page.

You don't just settle on the first headline you come up with. Test out different headlines to see which ones perform the best.

You use keyword research to help you choose headlines that are both relevant and likely to be typed into search engines. This will help you attract the right kinds of visitors to your landing page.
Make a Responsive and Fast Landing Page:
More and more people are using their mobile devices to access the internet, so it's important to make sure your landing page is optimized for mobile and can be viewed on all devices, including smartphones and tablets.
In addition, remember that a slow-loading page can be a major turn-off for visitors. So, make sure your page loads quickly. There are several online tools that can help you test your page speed and identify where you can improve.
When designing a landing page, you need to ensure that:
The text on the landing page should be large and easy to read. Avoid using small fonts or dense blocks of text.

The call-to-action (CTA) on the landing page should be prominently displayed and easy to tap on a mobile screen.

You test the landing page on various mobile devices to ensure that it looks and functions as intended.
Add Testimonials as Social Proof:
Trust is essential in every business. And testimonials are a form of social proof that can help build trust and credibility with visitors. Including customer reviews or case studies on the landing page can help demonstrate the value of your product or service.
In fact, studies have shown that testimonials can increase your profit and conversion rates by up to 34%. Moreover, testimonials can help improve your click-through rate. If potential customers see that others have had success with your product or service, they are more likely to click through to your landing page.
Add Contact Information:
Adding contact information to the landing page, such as a phone number or email address, can help build trust with visitors and make it easier for them to get in touch with you. So, ensure your contact information is prominently displayed on your landing page, preferably in the header or footer.
Optimize Your Landing Page for SEO:
A poorly optimized landing page can be the difference between a new customer and a missed opportunity.
It has been found that the first result in Google searches gets 33% of search traffic, while the second result gets 18%, and the third result gets 11%. So, just like websites, SEO is important for a landing page to rank higher. If you can get your landing page to rank higher in Google search results, you will get more web traffic.
So make sure you optimize your landing for SEO. It means making sure that it is structured and written in a way that helps it rank well in search engine results. This includes using relevant and well-researched keywords in the page's title, headings, and body content.
Conduct A/B Testing:
A/B testing is essential for any business owner who wants to improve their conversion rates. It is a relatively easier and straightforward process that can impact your bottom line. A/B testing involves creating multiple versions of a landing page and testing them to see which one performs better.
There are a number of different factors that can be tested in an A/B test, but the most common are the headline, the call-to-action (CTA), and the layout of the page. Testing different versions of these elements can help you to find the perfect combination that encourages visitors to take the desired action.
Don't Forget to Say "Thank You":
It is important to show appreciation to visitors who have taken the desired action on the landing page, such as making a purchase or filling out a form. This can be done through a simple "Thank You" message or by redirecting the visitor to a dedicated "Thank You" page. This helps to build trust and foster a positive relationship with the visitor, which can lead to repeat business or referrals.


The Bottom Line
Landing pages are an essential part of any online marketing campaign. They are designed while keeping a goal in mind. However, you need to optimize your landing pages to reach your business goals. So, make sure you optimize your landing page for SEO or lead generation.
However, if you are wondering how Shoprocket can help you grow your business, contact us now!