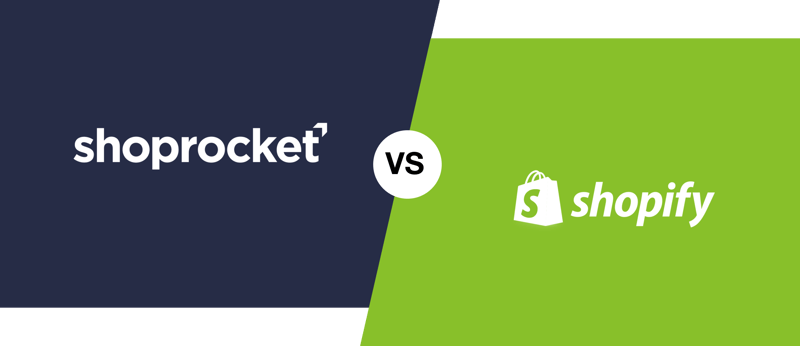 Choosing the right ecommerce platform is difficult. There are so many options out there, and the temptation to go for an established brand is strong: but is it the best idea?
Speaking of established: what is Shopify?
Shopify Inc. is a large multinational ecommerce company and ecommerce platform that helps businesses to set up and manage their online stores. The Shopify platform offers online retailers a suite of services including payments, marketing, shipping and customer engagement tools. Although they know what they're doing, does that mean they're the best for you?
Let's take a look at some rather recent scandals: according to Wikipedia in December 2021, a group of publishers sued Shopify claiming that it had failed to remove listings and stores selling pirated copies of their books and learning materials.
On top of that, in September 2020, Shopify confirmed a data breach in which data from less than 200 merchants was stolen. One of those merchants later said that in fact over 4,900 of their customers alone had their information accessed. Shopify claims that the data stolen included names, addresses and order details, but not "complete payment card numbers or other sensitive personal or financial information." And, let's not forget the mess they made of Shane Dawson and Jeffree Star's Conspiracy Pallet launch in 2019… drama!
So, they're established, but with big companies can come big risks. That's where Shoprocket comes in, a smaller business, admittedly, but there are definite conveniences to using a less corporate platform.
Before we look into the pros and cons though: who are Shoprocket?
Shoprocket is a bootstrapped business that has actually been live since 2013. Although the team is small, it is well established, and committed to building the world's best ecommerce solution.
Shoprocket's CEO, Ryan Badger, is no stranger to building highly scalable infrastructures or tackling what many believe are "saturated" markets after building & successfully exiting ufile.io (a file storage & sharing app), which he grew to over 20 million monthly users.
In his spare time, he's building a chicken wing bar in Bali (which has nothing to do with ecommerce; I just thought it was pretty cool).
Shoprocket started from the ground up, analysing every step of running an online store and figuring out how to do it better. This meant rethinking the status quo and finding ways to make the entire online shopping experience more intuitive, faster, safer and easier, for both the buyer and seller.
Today, it offers seller tools to 25,000+ businesses of all sizes, in 247 countries, from 1 to 100,000 products.
Our core focus is enabling ecommerce on existing websites, blogs, landing pages, social media channels…just about anywhere, whilst offering a single source of truth (our dashboard) to manage your store and inventory, making overselling is a thing of the past.
It offers automatic taxes & shipping, with a centralised cloud-based dashboard to manage products, customers, orders and marketing. As a Shopify alternative, we allow you to create an unlimited amount of products, with 0% transaction fees, and a range of plans to choose from with prices to suit business of every size.
So, let's take a closer look at the pros and cons of Shoprocket compared to Shopify:
1. Ease of use: with Shoprocket, you can set up your business in minutes, without having to learn complex coding or hosting services.
It's easy to set up your shop and start selling right away. As in, it takes minutes. If you already have a list of your products in a CSV file, you can upload this to your dashboard, embed our code snippet and you're away!
You can also export all of your data from your dashboard, so instead of being "locked-in" as you would be on Shopify, you can leave at any time (although of course, we'd miss you)
At Shoprocket, we strive to be platform agnostic, so you can embed your products anywhere, on any platform, in any programming language, at any time.
This "decoupling" of presentation layers (your websites, for example) from data sources (your inventory and store management) is undoubtedly the future of the web. Monolithic tech stacks like Shopify (where your website is also powered by Shopify) are becoming more stifling for content creators, who want to be able to sell products at the moment of intent.
With Shoprocket, you can display and sell your products directly in your blog post, or in a landing page, without customers having to click away from the content that lured them to your store in the first place.
We believe your store should truly be yours, so you can connect your own payment gateway and process payments directly, meaning you have access to your funds immediately. We don't touch your money, and you receive 100% of your revenues.
Adding your shop (or individual products) into your website is super simple as well: try it yourself, paste the code from this demo into your own page and you'll see a demo Shoprocket store, with products, shopping cart and checkout, instantly, just like this:
That's all there is to it! To sell your own products, simply copy your own embed code form your Shoprocket dashboard and paste it wherever you'd like to display your products and you're ready to accept orders.
2. Variety of features: Shoprocket offers a wide range of features at no extra cost
Although Shopify may have MORE features, the majority are via third party apps, which often cost more than the entire Shoprocket platform. For example, to enable product search and filtering requires an extra $19/mo subscription on top of the usual prices. With Shoprocket, this comes as standard, at no extra cost.
Our team builds, tests and deploys new features on a daily basis, all of which are rolled out to all our merchants, free of charge. We believe your ecommerce platform should do what it says, and not lure you in with the promise of thousands of features, which are actually third party "premium add on" apps.
3. A cheaper pricing model: a monthly subscription that rewards your growth.
With Shoprocket, there are no transaction fees, just a flat, monthly fee, regardless of your volumes. Whilst your business grows, your Shoprocket fee stays exactly the same: there are no minimum or maximum orders that a merchant can process: making it the perfect ecommerce platform for small businesses, and remain so as they become big businesses!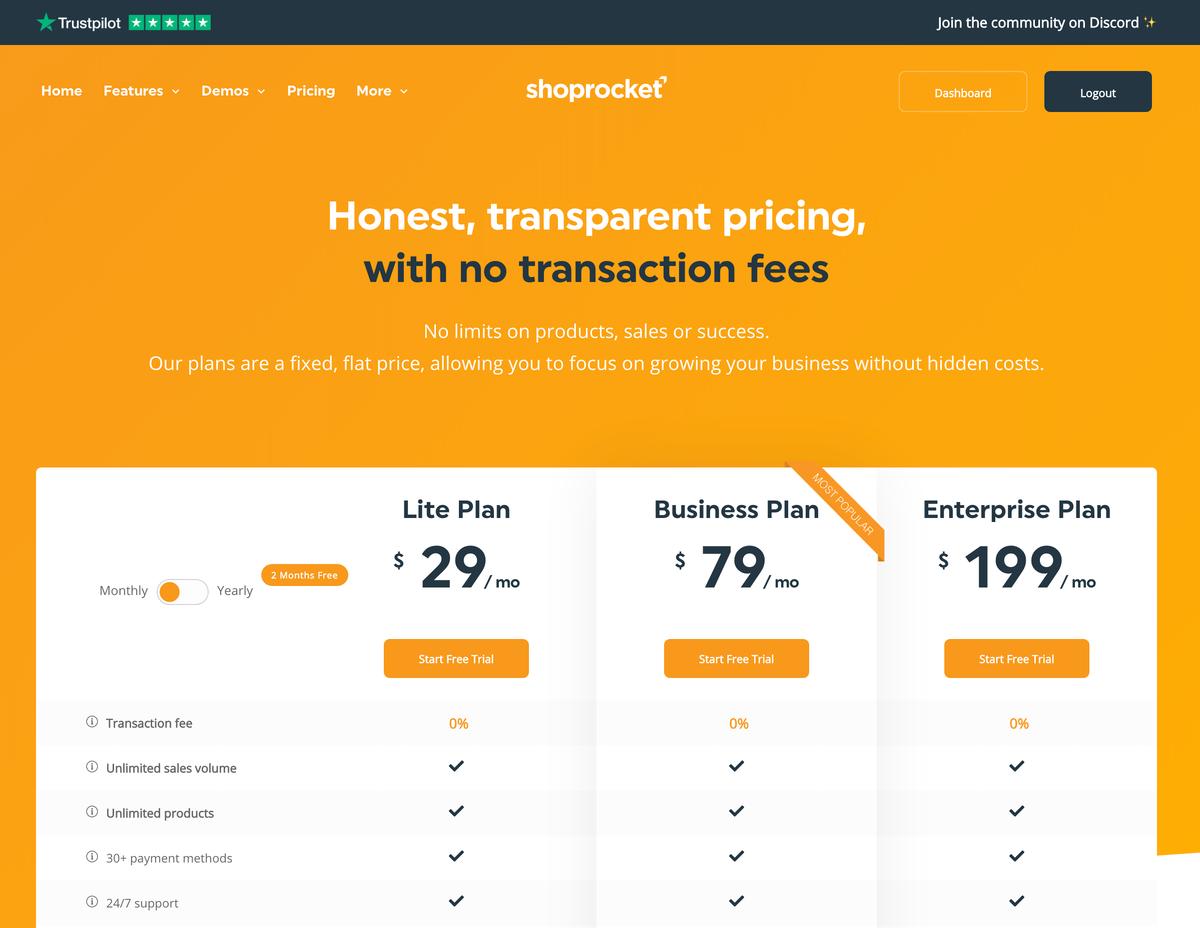 Shoprocket offers a variety of subscription plans to suit everyone's needs. These plans are available in both monthly and annual cycles (with 2 months free on the annual plans); plus, with a 14-day free trial, you'll be able to set up your shop and start selling right away, with time to figure out which plan is best for you.
No matter which plan you choose, you'll be able to access the entire dashboard, and there are no restrictions on the number of products you can list, or the number of sales you can process.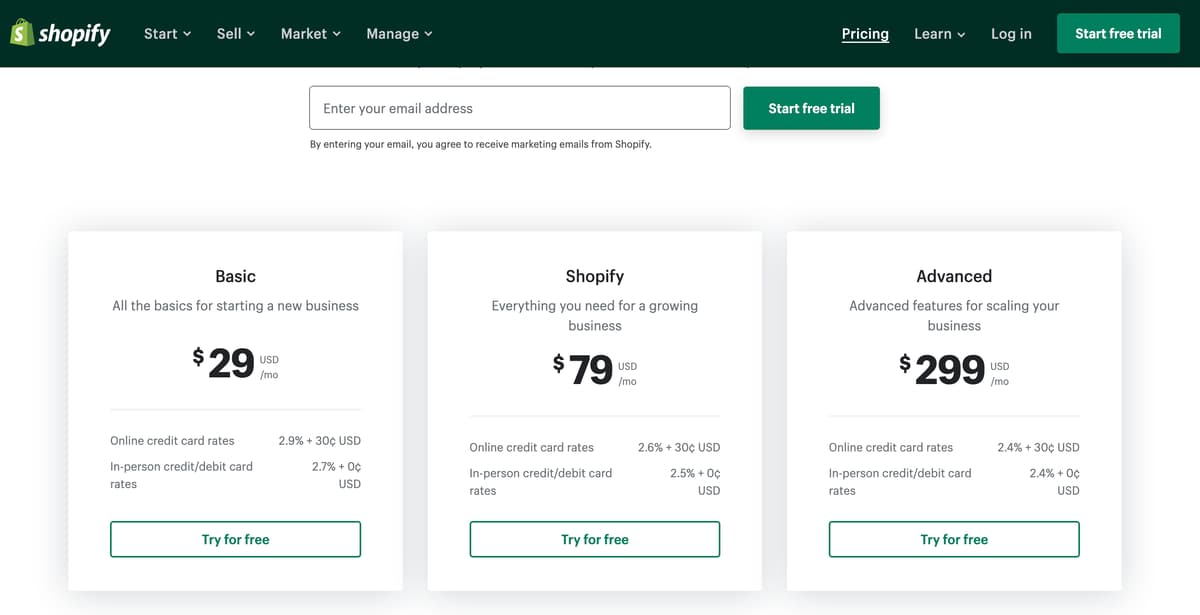 4. What customers see: Shoprocket is completely customisable.
With Shopify, the majority of customisation requires coding skills and technical know-how: not ideal for those who are less tech-savvy. With Shoprocket, you can customsie every element of your store via our online user interface, then simply copy the automatically generated code snippet into your page.
On top of that, if you upgrade to the enterprise plan you can remove any mention of Shoprocket - we would be a silent partners in your business, and happy to be so!
For those that don't already have a website or blog to embed their Shoprocket store into, we also offer hosted storefronts like this: https://demo.shoprocket.io/ which allow you to upload your own logo & header image, add your own texts and SEO tags, as well as connect your own custom domain name, such as acme.com.
It's a great place to test your business idea, or generate pre-sales before investing time and money into building your own dedicated website. (which if course you can integrate Shoprocket into later, without further setup)
5. Put your products in front of your customers: embedded ecommerce, anywhere.
For Shopify, embedded ecommerce feels like an afterthought (because it was, they added "buy buttons" after Shoprocket was launched in 2013), whereas for us, it was the very reason we exist, and as the industry leader in terms of speed & simplicity, it's something we're incredibly proud of.
As mentioned earlier, Shoprocket is "agnostic" for both platforms (websites, landing pages, blogs, no-code web builders etc) as well as payment gateways (Stripe, PayPal, PayU, RazorPay, Manual payments and more to come).
You can link your own stripe account and process all payments directly, rather than via "Shop Pay", which is just Shopify's white-labelled version of stripe, using their account. This means you have total control over the checkout flow. As an added bonus, you can even use your own domain name for the Stripe hosted checkout to offer a truly self-branded shopping experience.
To conclude: What are the benefits of using Shoprocket over Shopify?
Businesses of all sizes need a platform to succeed. Make sure to research which features are available and which will work best for you, this will depend on a variety of factors, including your business goals, the features offered, and your marketing strategy.
There are many benefits of using Shoprocket over Shopify: it doesn't require any coding or design experience, and Shoprocket is designed for businesses of all shapes and sizes, from physical goods to digital downloads.
Whether you're a small local store, an online retailer with physical locations, or a B2B business selling online and in physical stores, the platform has the capabilities to help your business grow. So, if you're looking for an affordable, easy to use alternative to Shopify, Shoprocket is, for sure, the best choice.