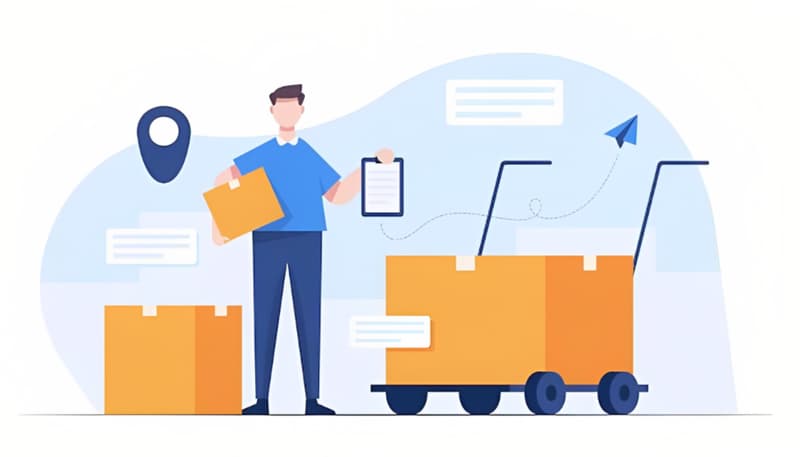 In today's world, the e-Commerce industry is booming and providing customers with a variety of products and services quickly and conveniently. With the rise in the eCommerce industry, the importance of printing shipping labels is also growing.
So, What Are Shipping Labels?
Shipping labels are a small but indispensable part of eCommerce logistics. No matter what product you sell or what is the size of your online store, things can go wrong and ruin your brand reputation, especially if you get shipping labels wrong.
Shipping labels are the medium through which a product is identified and tracked while in transit. This helps businesses ensure that their goods are sent to the correct customer in a timely manner. Without them, goods would be sent to the wrong destination, resulting in delays and damage to your brand reputation and business.
How Do Shipping Labels Work?
Shipping labels are integral to any package delivery process, whether it's within a city, another country, or another destination. The primary role of shipping labels is to provide the information necessary to deliver a package to the right recipient. This includes the recipient's name and address, the sender's address (if different), a tracking reference number, and a barcode for automated systems. This information is critical for the efficient handling and processing of goods.
Shipping labels also help businesses to track the progress of their goods, allowing them to closely monitor where the items are throughout their journey and when they reach their destination. By using this information, businesses can keep their customers informed about the progress of their orders and help make the entire delivery process more efficient.
Each carrier uses a different template for its shipping labels. Since shipping labels are designed to be read by human beings as well as machines, the information on the shipping label must be clear and easy to read.
There are two main types of labels that are used depending on the type of carrier employed to deliver the package. The most common type is a barcoded label, and this is because most carriers use an electronic system to ensure accurate tracking and receipt of the package. On barcoded labels, the required information is printed out in a barcode, which is then scanned by the carrier's electronic system.
The other type of label is more typically found with carriers such as USPS, FedEx, and UPS. These labels feature a standard alphanumeric text which is easy to read and understand without the need for any scanning devices. This type of label includes a tracking number as well as the recipient's name and address.
The Anatomy Of A Shipping Label
Generally, shipping labels consist of three major components – the sender's identification, the intended recipient's address, and the information associated with the shipment itself. Let's look at the anatomy of a shipping label and explore the importance of each element.
Sender's Identification: At the top of a shipping label is the sender's identification, also referred to as the shipper's address. This information should include the name and address of the parcel's sender, as well as the associated phone number. If a tracking number has been allocated to the parcel, it can also be included here. This allows the sender to be contacted should there be any issues with the delivery of the parcel.
Recipient's Address: Under the sender's identification information is the recipient's address, which should include the recipient's name, address, and relevant contact information. A shipping label should also include a street address, as this is how the parcel can be successfully delivered. If a delivery can't be made to the specified address, then the package should include instructions on what should happen to the parcel or where it should be redirected to.
Shipment Information: On the right-hand side of the shipping label is the shipment information, which contains specific data about the packaged goods. This information can include the weight of the parcel, a list of its contents, the cost of the shipment, and the number of parcels included in the shipment. This can be useful for providing an accurate record of what is being shipped and its pricing.
These three components form the essentials of a shipping label. In addition to the processing of the delivery of a parcel, having the correct information on a shipping label also helps to ensure that goods are processed successfully and delivered in a timely manner. Without a properly completed shipping label, parcels can be returned to the sender or go missing entirely. Therefore it is vital that you ensure that the information provided is accurate and complete.
How To Create And Print A Shipping Label?
Shipping labels are usually created and printed during order processing. Since each carrier has different columns for their shipping labels, it is recommended to follow the proper guidelines to create a shipping label for each order.
You can either choose to visit your local post office and pay for the shipping label or choose to automatically generate shipping labels via shipping software. However, in the former case, you have to spend extra money for order shipping, which tends to be an expensive affair.
On the other hand, if your eCommerce store is integrated with the most popular shipping providers, you can use their shipping software to create your shipping labels. For instance, if you want to sell on your blog via Shoprocket, you can easily create and print your shipping labels right from your Shoprocket dashboard. All you have to do is click a few buttons. The Shipping labels that are prefilled with your customer's information will get automatically printed in no time.
Not only this will save your time and money but also eliminate the need for contacting a 3rd-party shipping company. You can also choose to automatically assign a tracking number to your every order.
If you are wondering how to print a shipping label, you can use thermal label printers. Once you have created a shipping label via Shoprocket, you can print it to place it on your parcel and drop it off at the nearest post office.
How To Place Shipping Labels On The Package?
The ideal location for placing the shipping label on a package depends on the type of package and its shape. For example, in the case of rectangular boxes and packages, the label should be placed on the largest flat side of the package. This will make it easier for the delivery personnel to read the label from a distance.
For packages with irregular shapes or those that are cylindrical or have curved edges, place the shipping label on the side of the package that is most visible. This will help to avoid any confusion and ensure that the package is shipped to the right address.
In addition, it is important to make sure that the shipping label does not cover any other labels or markings on the package. For example, any manufacturer labels or warnings should not be covered by the shipping label. Furthermore, to ensure that the address can be seen clearly, ensure that the label is not crumpled or folded.
Also Read: Landing Page Optimization Tips to boost your conversions
Tips For Shipping Label Printing
When creating shipping labels, there are several factors to consider to ensure that your shipments reach their intended destinations on time. Here are few key considerations to take into account when creating shipping labels.
Accuracy: In order for your shipments to reach their destination on time and without any hiccups, it's critical that all the information on the shipping label is accurate. This includes the recipient's address, the package weight, dimensions, origin, contents, and more. Any errors or discrepancies can cause delays or even lost packages. Be sure to double-check all information on the label before sending it off to ensure it is complete and accurate.
Compliance: Depending on the destination of your shipment, there could be particular regulations and requirements that must be adhered to when creating shipping labels. For example, shipments to some countries outside the US may require specific customs documents or labels. You'll want to be sure that all the required information is included on the shipping label and that your label is compliant with any regulations that apply.
Tracking: Make sure that you include a tracking number on the shipping label. This will help you keep tabs on your shipments and will make it easier to provide customers updates on their orders. Many customers appreciate being able to track the status of their shipments and appreciate the transparency.
Labeling: Be sure to use labels that are durable and weather-resistant. This will ensure that your labels are legible and remain intact throughout the shipping process. You'll also want to consider using labels that have extra features, such as tamper-evident closed seals.
Font Size: The size of the font you choose for your shipping labels should be large enough that it can easily be read but not too large that it takes up more space than necessary. A font size of 10-12 points is usually big enough to be read at a distance while still being able to pack a lot of information on each label.
Good Quality Paper: You also want to make sure you use paper that is durable enough to withstand the wear and tear of postage, shipping, and handling. Choose a good quality paper stock such as cardstock or heavy-weight paper so it won't tear or smudge. The thickness of the paper should also be taken into account, as thin paper can become damaged quickly in transit.
Strong Adhesive: Last but not least, make sure that your shipping labels have an adhesive that is strong enough to keep your labels stuck throughout shipping and handling. Choose an adhesive that is designed for shipping labels and that will stand up to hot, cold, and wet conditions. Make sure that the adhesive is strong enough that it won't come off during transit.
The Bottom Line
Shipping labels are an essential tool for any eCommerce business. With the right shipping label, you can ensure that your shipments are always delivered on time and to the correct address.
So, what are you waiting for? Get in touch with Shoprocket now to know how we can help you create your shipping labels and grow your business.