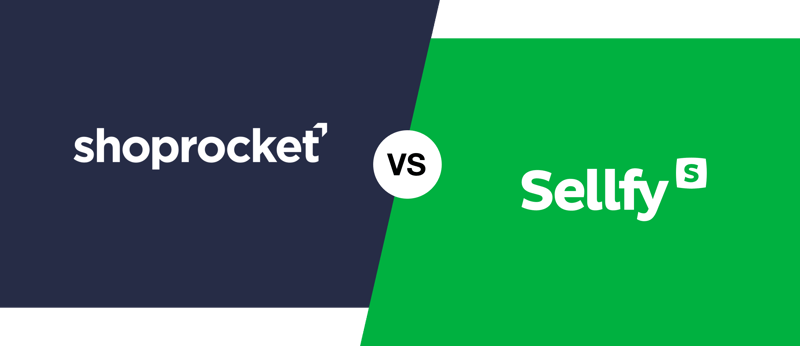 Sellfy is known for its ease of use - but is this a good thing? If you're looking for an alternative to Sellfy and want to try something new, we (naturally!) recommend Shoprocket. As one of the best Sellfy.com alternatives, offering everything Sellfy does at an affordable price, Shoprocket comes with no sneaky hidden costs, lock-in contracts and a lot more features. Let's get into why so many people are switching to Shoprocket and why you should too!
What is Sellfy?
Sellfy proudly shouts about its simple-to-use interface and effortless eCommerce - they've been running since 2011 and have a small team of just 16. They concentrate on users selling mainly Print on Demand products, Digital products, and subscriptions. They have a few set layouts to use and have a 14-day free trial - all in all, not bad!
However, their design tools are rather limited. Changing the colours of your layout and adding your logo doesn't really count as customisation in my humble opinion. Also, with only Stripe and Paypal as their payment gateways, it doesn't give you much wiggle room to receive your money - especially if you're in an area that doesn't use them. On top of that - Paypal and Stripe have strict policies on what you can sell, which normally isn't an issue, but there are occasions (for example, selling health products such as CBD oil, or starting a little bingo business, which fall under their no gambling policy) where you just won't be able to use these - that's why sometimes you will just need another payment gateway.
Sellfy is also not known for its integrations - although they offer an embedding service, all the platform really does is place an iframe on your page, and then when the customer wants to click through, a completely new browser window is opened, causing confusion and with a new URL appearing, potentially mistrust. Plus, who enjoys pop-ups?!
There's also no cart embed feature provided with Sellfy, so you can only buy one item at a time: not great for stores with multiple products, or upselling!
So, now we know about Sellfy, What is Shoprocket?
Shoprocket makes it easy for you to sell all kinds of products and services, anywhere.
Our focus is to make selling as easy as possible, which is why we did everything we could to modernise the shopping experience. We use the latest cutting-edge technology to make transactions more secure and seamless, removing all loading transitions and archaic hurdles like "create an account to checkout", for a better customer experience and lightning-fast checkouts.
Our tools make it easy to create a storefront and manage all of your content for products right from the dashboard. Then, you can embed ecommerce wherever you need to (NO iFrames!) without worrying about complicated installations or security. It's a simple one-time copy & paste, with all future product changes done via the dashboard being reflected in real-time across all of your embeds/sales channels.
For beginners and veteran eCommerce business owners, this is a major step up from platforms like Sellfy.
Moreover, Shoprocket is a platform that makes it exceptionally easy for you to create your own fully customised and styled online store: making it completely yours, including embedding your products into your website, blog, landing pages and even social media accounts, such as Instagram and Facebook.
With Shoprocket, there's no coding required. That being said, there is the option for you to use those HTML & CSS skills that you learned from MySpace (just showing how old I am there!) to completely customise your store. So, techie or non-techie, Shoprocket has you covered.
How Does Shoprocket Differ From Sellfy?
Although Sellfy offers the option to sell both physical and digital products, its focus is primarily on digital products. If you sell physical products, or indeed both, Sellfy may not be the platform for you.
There is a free version of Sellfy, but it's not as great as they make out - only 10 products can be added, which for your average seller is not enough, and for a site that focuses on promoting digital products, the fact that you can't do that in the free plan is a little confusing.
Sellfy may appear slightly cheaper at only $22 a month - but this price is only valid when paying for the full year, upfront. Paying monthly will start at $29 a month (the same as Shoprocket's Start Plan): you only get the cheaper price if you purchase a yearly subscription at $264 - that's a shock when you've got a monthly budget in mind!
Sellfy is the closest in price to Shoprocket, charging $29 a month for their standard plans, and Shoprocket's annual plan is only $26 more expensive than Sellfy's - but for this, you get so much more. Here is a list of features that Sellfy doesn't have on their starter plan:
An unlimited sales volume- Sellfy caps your selling on their starter plan, and indeed all of their plans! Even their premium plan (at a hefty $159 per month) only allows up to $200k in sales per year. After this amount of sales, the price for using Sellfy is…a mystery, as they require you to contact them.
Unlimited staff accounts
Sell wherever you want on an unlimited amount of websites and blogs, including social media
Discounts/vouchers/sales
Why Is Shoprocket the best Sellfy Alternative?
So, now we've covered everything, let's go over our reasons as to why you should consider Shoprocket:
Already have a catalogue of your products? You can upload them all with Shoprocket the moment you sign up with our intelligent CSV product importer,
Choose from over 30 payment gateways - including Stripe, PayPal, Apple Pay, Google Pay, Klarna, and many more. All of them will seamlessly integrate with Shoprocket with 1 click, so you can accept payments from customers all over the world! And, if we don't have the payment gateway you require, just drop us an email and we will see what we can do! Sellfy, however, only integrates with Paypal or Stripe.
Complete design freedom: yes, Sellfy's customisation is only a click or two, but there are so few choices. With Shoprocket, just a little bit of HTML and CSS knowledge gets you such a long way - you can completely redesign your store as if we were never even there. Or you can customise every element & style via our easy-to-use dashboard with real-time previews.
More features for the same amount of money: Our monthly plan costs exactly the same as Sellfy, but with more features.
Conclusion
To summarise, Shoprocket is a Sellfy alternative that is better in almost every way. It offers everything Sellfy does and more at the same monthly price, with no hidden costs or lock-in contracts, a huge array of features, and complete design freedom - what's not to love?!
We hope you're convinced that Shoprocket is the best alternative to Sellfy. But, if you're still not 100% sure, you can check out our pricing and speed "Shoprocket vs Sellfy" comparison pages to ensure you're making the right choice.
Or you can start a trial by clicking here; it's free, and we're there for you every step of the way.